NSA collected porn visits data to discredit Muslim 'radicalizers'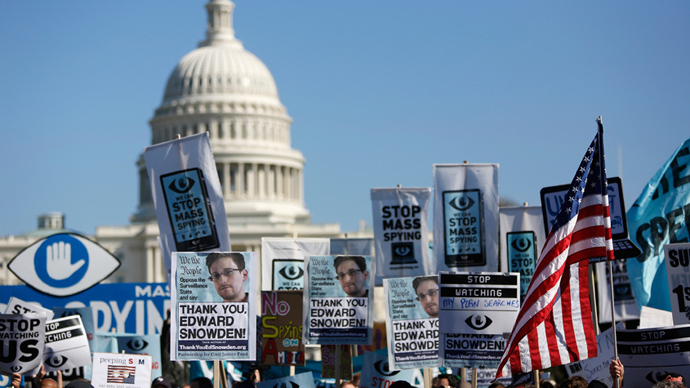 The National Security Agency has been collecting a mountain of dirt on the online sexual activity of individuals, all of them Muslims, whom the agency seeks to discredit due to their 'radicalizing' efforts.
The expression 'all's fair in love and war' just took on a whole new meaning in the ongoing debate that pits national security against personal privacy.
Yet another top-secret NSA document - one of many whisked out of the United States by whistleblower Edward Snowden - revealed that the agency sought to discredit the "credibility, reputation and authority" of six Muslim 'radicalizers' through their online sexual activity and visits to pornographic websites, according to Huffington Post.

The targeted "exemplars," whose identities are not revealed, are purportedly attempting to recruit and radicalize followers through "incendiary speeches."
The NSA document, dated Oct. 3, 2012, aims to exploit the "personal vulnerabilities" of its targets through their online tendencies, including "viewing sexually explicit material online" and "using sexually explicit persuasive language when communicating with inexperienced young girls."
best protest sign at #RestoreThe4th rally in DC, asking for NSA forgiveness: pic.twitter.com/r3iXL3hvSq

— AdamThierer (@AdamThierer) July 4, 2013
The Huffington Post said it is withholding the names and locations of the six targeted individuals, whose alleged online activities "cannot be verified."

The Director of the National Security Agency ("DIRNSA") distributed the top secret document to a number of government agencies, including the Department of Alcohol, Tobacco and Firearms (ATF), the Drug Enforcement Administration (DEA) and US Customs.
'We can discredit them'
Snowden's revelation's turned a spotlight on the NSA and its warehousing of billions of pieces of information - emails, phone calls, photos and videos. However, in its effort to find the proverbial needle in a haystack, the NSA is scooping up millions of innocent people in its dragnet.
However, in the never-ending fight against terrorism, proponents of the NSA's eavesdropping techniques, which have spied on everything from the offices of the United Nations to the Vatican, maintain a position of security over privacy.

Stewart Baker, former general counsel for the NSA, supported the idea of practicing what essentially amounts to character assassination against individuals who are believed to pose a risk to US security interest.

"If people are engaged in trying to recruit folks to kill Americans and we can discredit them, we ought to," Baker said, as quoted by HP. "[D]ropping the truth on them," as opposed to a drone missile attack, for example, is "fairer and maybe more humane."
Who's next?
Although the NSA document only mentions Muslims on its list of targets, critics of the clandestine data mining system worry that such tactics could be used against ordinary Americans for any number of reasons.
"This kind of dragnet surveillance is precisely what the Fourth Amendment was meant to prohibit," said ACLU Deputy Legal Director Jameel Jaffer, who presented arguments against the NSA surveillance in a US federal court last week.

"The Constitution does not permit the NSA to place hundreds of millions of innocent people under permanent surveillance because of the possibility that information about some tiny subset of them will become useful to an investigation in the future," Jaffer added.
Jaffer said it is right to ask if a "president will ask the NSA to use the fruits of surveillance to discredit a political opponent, journalist or human rights activist."
"The NSA has used its power that way in the past and it would be naïve to think it couldn't use its power that way in the future," he said.
None of the individuals listed in the NSA document, all of whom are believed to reside outside the United States, is accused of being involved in terror plots against US interests, the article concluded.

You can share this story on social media: