US Navy sends warships to North Korean shores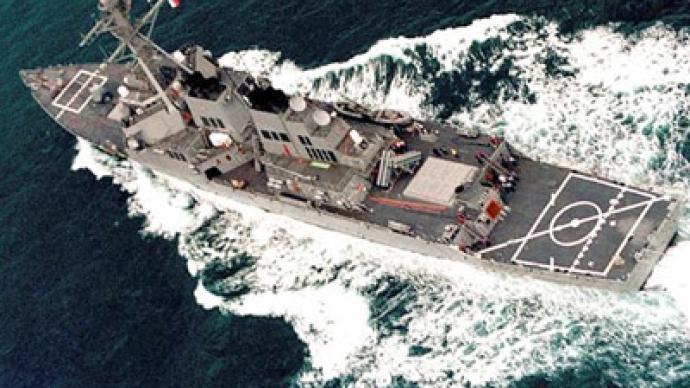 The US Navy has sent two additional warships to North Korea to track and prepare for a possible North Korean rocket launch, bringing the total number of warships surrounding the Communist state to four.
North Korea on Monday announced that it is extending its launch period for a rocket test by one week to Dec. 29. The United States and the United Nations have expressed concern that North Korea may be testing its missile technology to see if it could be used to eventually strike the US. This is Pyongyang's second attempt at such a launch this year – an attempt that the US views as a violation of UN Security Council resolutions. The UN has banned the secretive Communist nation from conducting any ballistic missile tests.The warships surrounding North Korea are meant to monitor the launch, as well as stand prepared to intercept the rocket in case the missile threaten Japan or the Philippines. The missile cruiser Shiloah and the destroyers John S. McCain, Benfold and Fitzgerald are serving as "prudent precaution", unnamed officials told NBC News.North Korean officials claim their missile launch, originally scheduled to occur between Dec. 10 and Dec. 22, is meant to "put a satellite into orbit" to commemorate the first anniversary of the death of former leader Kim Jung-il, who died a year ago on Dec. 17. But the US Navy is skeptical. While North Korea claims to be launching satellites, US officials believe this is actually a ballistic missile test, which the UN has banned North Korea from conducting.The Navy warships will be positioned to provide its forces with several perspectives to see what the North Koreans are doing with their missiles."It should seem logical that we'll move them around so we have the best situational awareness," Adm. Samuel Locklear, who commands US forces in the Asia-Pacific region, said during a Pentagon news conference.Locklear also expressed deep concern about the purpose and capability of the missile, asking questions that the US has no answers to."If they do violate the Security Council and launch a missile, what kind is it? What is it about? Where does it go? Who does it threaten? Where do the parts of it… that don't go where they want it to go, where do they go? And what are the consequences of that?" he asked.Japan has already prepared its response to potential ballistic missile tests by North Korea. Patriot Advanced Capability 3 antimissile systems have been positioned in three areas, including Tokyo. Japan has also sent three destroyers to monitor the missile's suggested path."At this moment, we are keeping our guard up," Defense Minister Satoshi Morimoto told reporters Monday. "We have not seen any objective indication that would cause us to make any change to our preparedness."South Korea will also deploy two destroyers to monitor the missile test.The West, and particular the US, are deeply troubled by the prospect of North Korea testing ballistic missiles. US Secretary of State Hillary Clinton last week urged NATO officials and Russia to pressure Pyongyang to cancel its plans.And with four US warships stationed around North Korea, the US has further reiterated its fear of North Korean motives.