North Dakota struggling to deal with radioactive fracking waste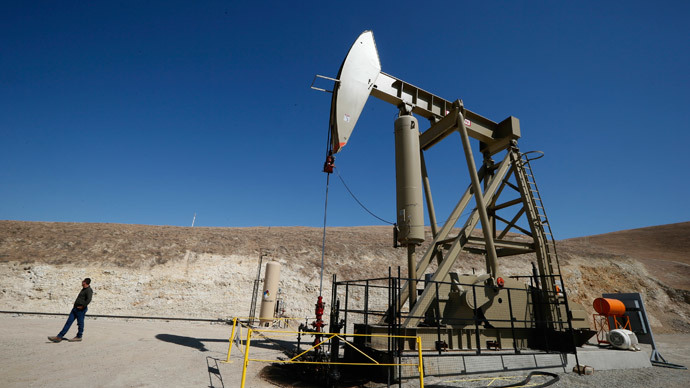 Environmental regulators and North Dakota state officials have expressed concern that the state has failed to adequately adjust to the state's sudden influx of crude oil output, a worry highlighted by the recent discovery of abandoned radioactive waste.
Last month, the North Dakota Health Department announced that a large pile of oil filter socks –radioactive nets that are used to strain liquid during the oil production process – had been found at an old gas station in Noonan, a small town in the northwestern region of the state.
The bags were covered in dust – an indication they had been there for some time – and dumped illegally at the mechanics station owned by a fugitive named Ken Ward, who reportedly worked in North Dakota's fledgling gas and oil industry.
"I suspect that he was doing contract work for some oil company and he told them he would – I'm sure for a price – take these and properly dispose of them," North Dakota Waste Management Director Scott Radig told ThinkProgress. "He did it the cheap way, took the money, and took off."
That unfortunate discovery was the second event in just a few days in early March, as another pile of oil socks was found on flatbed trailers near a landfill outside another small town in northwestern North Dakota, where the majority of the state's oil shale formation is located.
Oil socks give off relatively low radiation levels (the Wall Street Journal reported that standing next to a dumpster full would give a person less skin damage than a dental X-ray), although the ugly images that have been broadcast throughout the media, combined with the explosion in oil production, has alarmed the public.
"Before the Bakken oil boom we didn't have any of these materials being generated," Radig told journalist Chester Dawson on Tuesday. "So it wasn't really an issue."
The state passed a law last week requiring the shale-oil industry to use leak-proof containers to hold used oil socks at shale sites. The law goes into effect on June 1. North Dakota already requires that filters be transported with "licensed waste haulers" to proper waste facilities.
However, despite the state's position as one of the leaders in shale oil production, North Dakota does not have even one facility that can properly get rid of the waste that comes in from the 500-600 sites currently in production.
"There's such a rush to get the oil out that the rules and regulations are not keeping up with the pace of development," Wayne Schafer, head of the North Dakota chapter of the Sierra Club – perhaps the most influential environmental group in the US – told the Journal. "This state is reactive instead of proactive."
The new law and relatively small amount of radiation are not enough for members of the community who are not involved in the oil industry. Noonan Mayor Cyndie Fagerbakke told the Associated Press last month residents are "disgusted" with the recent find.
"This is blatant disregard for the health and welfare of our community," she said. "It's criminal and the people responsible should be punished very, very stringently."
She also said that North Dakota farmers have come forward to admit they're particularly nervous about stumbling on radioactive waste that has been stored on their land illegally.
"I'm not at all happy about how the state regulates these radioactive filter socks," Fagerbakke went on. "Why isn't the state more on top of this and why don't they have a more stringent plan for getting rid of this stuff?"
You can share this story on social media: