NORAD and Russian fighter jets conduct military drills amid tensions surrounding Syria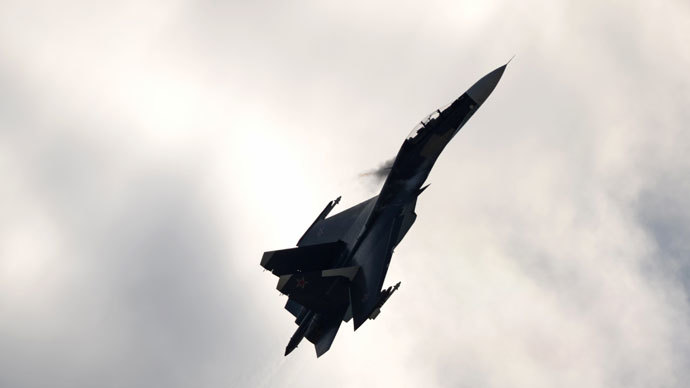 As US-Russian relations remain tense over Syria, NORAD and the Russian Federation Air Force jointly conducted military training exercises to teach pilots how to find, track and escort a hijacked plane over international borders.
To train pilots how to respond to a terrorist attack, a "hijacked" 757 passenger jet took off from Anchorage, which Canadian jets intercepted and escorted over the international border at the Bering Strait. The hijacked plane was then handed off to Russian fighter jets.
Canadian jets kept a distance while escorting the "hijacked" planes, while Russian jets were near the wings at all time, giving the aircraft little room to escape. Russian jets were so close that observers in the 757 could make out the pilots' faces, the Associated Press reports.
The exercise, known as Vigilant Eagle, has been conducted five times over the past decade. But some consider the timing of this most recent exercise surprising, given the tense relations between the US and Russia over the crisis in Syria and National Security Agency leaker Edward Snowden, who was granted asylum by Moscow this summer.
But officers and generals involved in the exercise claim that the tensions has been left out of conversation during the weeklong exercise, and that the politics will not affect the two countries' cooperation to prevent any future terrorist attacks. 
"I can only say the issues you raised have never been raised [during the exercise]," Maj. Gen. Dmitry Gomenkov told the Colorado Springs Gazette, noting that military cooperation can accomplish things that diplomats are unable to. "This can fill the gap."
Col. Patrick Carpentier, the deputy commander of NORAD's Alaska Region, served as Gomenkov's American counterpart in the exercise, largely mirroring the views expressed by the Russian general.

"All these other factors really don't play in this," said Carpentier, a member of the Canadian Air Force, according to the Associated Press. "This is a mission that we have to accomplish, so it really is beyond those types of frictions. We cooperate because we have to."
The US Northern Command, which is responsible for preventing US terrorist attacks and defending the country's airspace, is located together with NORAD at the Peterson Air Force Base in Colorado Springs, Colo. 
Russian observers were sent to facilities in Colorado and Alaska, while NORAD observers were sent to Khabarovsk, Russia. Gomenkov said planning for next year's exercise will begin this November, regardless of what happens between the US and Russia over the Snowden case.
"The cooperation with the Russian Federation Air Force personnel has been ongoing for the past year for this particular serial, and at no time there was any discussion about canceling the event for this year," Viens said Thursday at the conclusion of the two-day exercise, according to the Associated Press.
You can share this story on social media: