No pasaran! Ukrainians won't let US sailors into city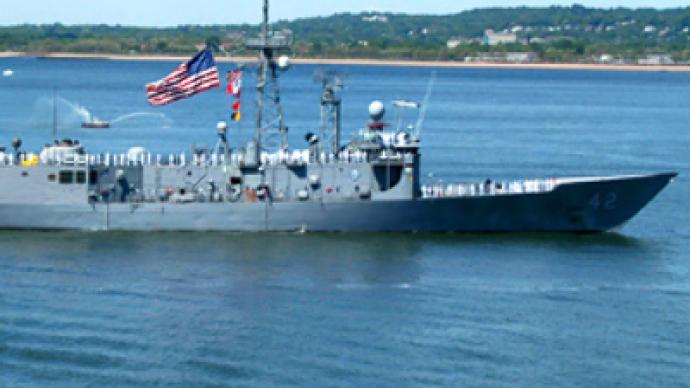 A large group of demonstrators has gathered at Grafsky embankment in Ukraine's Sevastopol to protest the visit of an American frigate, the USS Klakring.
The protesters also blocked the road from the port to prevent the vessel's crew from visiting the city.
Further, Ukraine's reinforced police units had to close all roads leading to the sea terminal to protect the sailors.
The Crimean port, largely populated by Russian speakers, hosts the Russian Black Sea fleet which has its main base in Sevastopol. Observers explain that is why the U.S. warship did not receive a warm welcome from local pro-Russian parties and organizations.
About 500 people took part in the protest initiated by a Ukrainian opposition alliance, Natalia Vitrenko Bloc.
The Klakring's appearance at the port was met by air balloons carrying streamers with "No to NATO" slogan. The crowd was chanting, "NATO, go home!" At the final act in the 'hospitality show', a Black Sea Fleet veteran threw his shoe at the frigate, putting Ukrainian soldiers on alert.
Andrey Merkulov, a City Council member and one of the organizers of the rally said, "We welcome all foreigners who come here as tourists, but we will not tolerate the U.S. military in our city."
The USS Klakring (FFG 42) entered the Black Sea on March 20 and will remain in the port of Sevastopol until Saturday when it's scheduled to head to Batumi in Georgia.
It's not rare that locals in Sevastopol protest against visiting NATO warships. While Kiev is keen to join the alliance, the majority of the population is opposed to NATO membership.
You can share this story on social media: