New Yorker charged with hate crime for 'knockout game' attack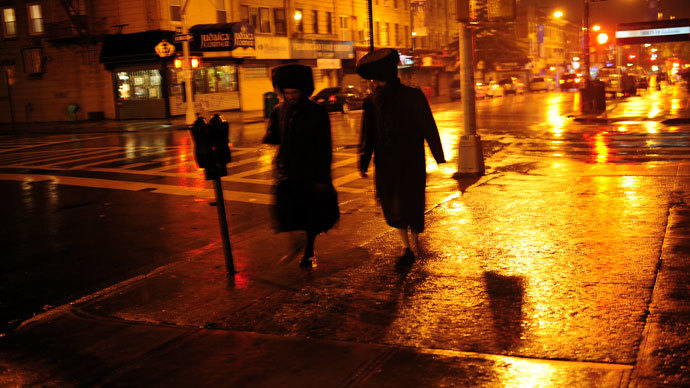 Police in Brooklyn have arrested a man and charged him with committing a hate crime after he allegedly assaulted a Jewish person on the streets of Brooklyn early Friday amid a rash of similar attacks being considered part of a growing "knockout" game.
Amrit Marajh, 28, was arrested and charged with assault as a hate crime and aggravated harassment as a hate crime following a Friday morning incident that left a Jewish man four years his junior badly bruised.

Defense attorney James Kirshner told reporters in the aftermath that his client never heard of the recent phenomena surrounding the so-called game, "knockout," in which groups of predominantly young men have been accused of surrounding unsuspected targets and then unleashing on them with the intent of knocking them out.
According to the victim, however, that's not the case. A local NBC affiliate reported that the 24-year-old victim heard his assailant talk about the knockout game among his friends at around 2:45 a.m. Friday morning, before the man allegedlly approached his target and took him down. Three other men were initially brought in for questioning by the New York Police Department but were released.
As RT reported previously, a wave of these assaults has emerged across Brooklyn in recent weeks, and in many cases the victims were all described as Jewish. Earlier this month, New York Police Department Commissioner Ray Kelly said he knew of at least eight instances since the middle of September that authorities were concerning as anti-Semitic, including similar rounds of "knockout," which have reported to injure victims ranging from a 12-year-old boy dressed in traditional Jewish clothing to a 78-year-old woman.
"Who would do that? Who would attack a 78-year-old woman?" State Assemblyman Dov Hikind asked earlier this month after news surfaced of that assault. "This is just hitting someone, attacking someone, it could be my mother, your mother. It's just scary and crazy."
"It's 'knockout,' and it happens to be a Jew in each and every case," Hikind added.
New York City Council Member Peter Vallone Jr. has appealed to the federal government for assistance, and the NYPD has increased the number of officers on patrol in neighborhoods where the attacks have occurred. Despite these precautions, however, reports of "knockout" games have surfaced recently in cities ranging from coast to coast, where assailants have grouped together to target innocent bystanders unprovoked regardless of race. In Philadelphia, Pennsylvania, a 29-year-old white man was recently struck by a group of assailants, and a recent attack on a Chinese-American congresswoman in the nation's capital has been considered a possible example of another round of "knockout."

Speaking of the latest incident in Brooklyn, Kelly told reporters that there was no question this attack was also racially motivated.
"He makes a statement that he was punched in the side of the face," Kelly said, according to ABC News. "He also makes a statement that just prior to it they were talking about the 'Knockout Game'."
Because Marajh is Jewish, authorities are treating the latest incident as a hate crime.
"This had nothing to do with the knockout game," Kirshner told the New York Daily News. "This case has blown out of proportion," he added to the New York Times.
On his part, Marajh told Times reporters after being released on $750 bail, "I never hit the guy."
"They try to say it's a hate crime. Why is it that I was the one arrested?" he asked.
Marajh's attorney told the Times that his client is not anti-Semitic and that his girlfriend is Jewish.
You can share this story on social media: