Gun maker bans sales to New York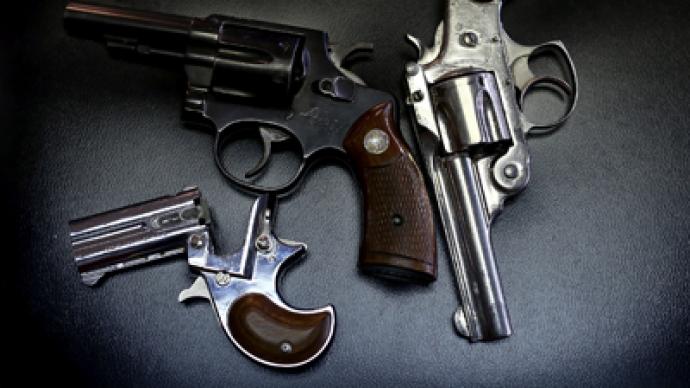 An American firearms manufacturer says they are the banning the sale of their merchandise to law enforcement and government agencies in New York State in protest of a new gun law signed this week by Governor Andrew Cuomo.
The management at Washington State-based Olympic Arms, Inc. issued a statement this week affirming that the half-century-old gun maker will no longer be in business with any government-affiliated parties operating in New York, where just this Tuesday Gov. Cuomo signed the first new state-wide firearm regulations in the country since the tragic Newton, Connecticut massacre last December.Gov. Cuomo, a gun owner himself, called the new law a "common sense" measure in wake of a series of mass shootings, and attacked critics of his stance by saying, "You can overpower the extremists with intelligence and common sense" before he signed it in Albany, NY this week. With the governor's autograph, New York will now have to maintain a statewide gun registry and a uniform licensing standard. Additionally, residents will be limited to purchasing magazines with a maximum capacity of seven bullets instead of the standard 15, and other changes will effect treatment given to the mentally ill."I'm very proud that this state passed a comprehensive, common-sense gun-control law that is reasonable, that is balanced, that does not affect hunters, does not affect sportsmen," Cuomo told reporters in Poughkeepsie, NY this week. "It's about keeping guns out of the hands of the mentally ill, about keeping the guns out of the hands of criminals. And that everybody should be able to agree on.""Should," of course, is key. On the day he signed the legislation into law, a crowd of pro-gun activists rallied outside of the state house in Albany to protest the maneuver. Perhaps the biggest demonstration so far, though, has come courtesy of Olympic, who issued their press release just hours before Gov. Cuomo's signature was added to the bill."Legislation recently passed in the State of New York outlaws the AR15 and many other firearms, and will make it illegal for the good and free citizens of New York to own a large selection of legal and safe firearms and magazines. We feel as though the passage of this legislation exceeds the authority granted to the government of New York by its citizens, and violates the Constitution of the United States," reads the statement from the company, published on their Facebook page and shared over 5,300 times as of this writing. "Due the passing of this legislation, Olympic Arms would like to announce that the State of New York, any Law Enforcement Departments, Law Enforcement Officers, First Responders within the State of New York, or any New York State government entity or employee of such an entity – will no longer be served as customers," it continues. "In short, Olympic Arms will no longer be doing business with the State of New York or any governmental entity or employee of such governmental entity within the State of New York – henceforth and until such legislation is repealed, and an apology made to the good people of the State of New York and the American people."Olympic is stopping there, though, and has more than just a little bone to pick with police in New York. Also this week, the gun-makers released a separate statement in which they vow to boycott the FOP Journal, the official magazine of the Fraternal Order or Police."It is well known that the FOP is a staunch supporter of Gun Control, had backed the AWB under Bill Clinton, and supports the current AWB under consideration that was introduced by Diane Feinstein [sic]," is reads. "We pledge to inform all of our customers the lengths that the FOP and associated FOP affiliates by proxy (which includes all your advertisers) are willing to go to in order to strip the American Citizen of their Constitutional Rights, while at the same time writing in exemptions to the same legislation to ensure that their members maintain those same rights they would have stripped from others."Gov. Cuomo mentioned earlier this week that some reports suggest the establishing of new gun laws will cause an increase in firearm sales, similarly to a spike in retail purchases made before the 2008 and 2012 elections when Democrat Barack Obama was expected to win a spot in the White House and was rumored to begin make changes immediately to federal law.
You can share this story on social media: