Nevada town taken off the map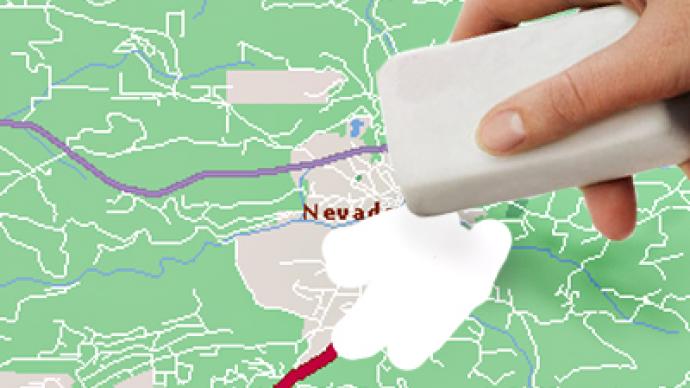 There isn't a whole lot going on in Empire, Nevada. Aside from a nine-hole golf course, a sprinkling of homes and the town's only gas station, there isn't really much of anything.
That will change next week when the entire town will cease to exist altogether. Come Tuesday, the 89405 zip code will be zilch.The United States Gypsum Corporation laid off 95 of its 99 Empire employees on January 31, and with nearly nothing left in the Black Rock Desert town, the zip code is being retired and its citizens will be forced out when the town calls it quits on June 20.The 300 residents of Empire reside in homes owned by USGC, a massive drywall company that halted operations less than five months ago. USGC has always rented accompany-owned houses to its fewer than a hundred employees, but with no work—and nothing else—the town will shut down next week. In recent months many USGC workers have found work elsewhere, joining the staffs of nearby gold mines. When the town finally shuts down though (it waited for the school year to conclude), those without a new home will have to hit the road. Until around five years ago, the company was a leader in the drywall game. Work has been on the decline since 2006, however, and the decision to close the doors of USGC seemed inevitable. "There was nothing personal. We all hated to see it close. This is a terrible thing, but we closed because nobody was showing up and picking up sheetrock," says Mike Christopher to the Las Vegas Review-Journal. "Sheetrock" is trademarked by USGC and is a product that company has generated out of gypsum to become the most common wallboard used in the construction industry. At least it did. USGC had been in operation since 1923.Outside of Empire, Gerlach, Nevada is the nearest town at five miles up route 447. That's where the Empire school children had been bused in for their education. Aside from the gold mines there, most of the region is a figurative ghost town, except for when the annual Burning Man festival brings thousands from across the world into the desert every summer.Come next week, however, that proverbial ghost town will become a much more real one.
You can share this story on social media: