Nevada cops sued over forced occupation of private homes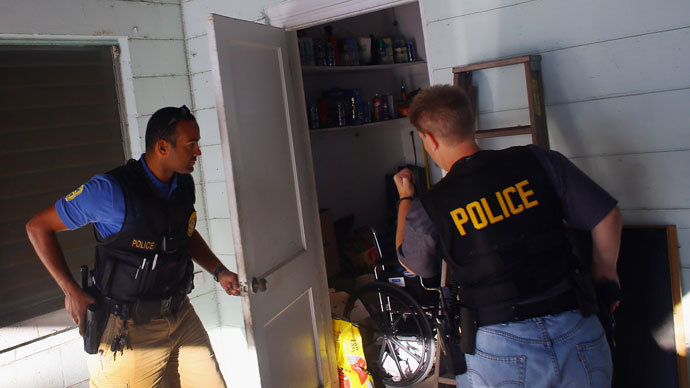 It's been a few hundred years since the Third Amendment was written to keep King George from quartering British troops in American homes, but a lawsuit just filed in Nevada suggests it's as relevant as ever.
The framers of the Constitution ratified the Third Amendment to ensure citizens would never again have to accommodate soldiers, but a few centuries later it's become more-or-less an antiquated law that's rarely referenced in federal court. That changed recently when a family from Henderson, Nevada accused the local police department of constitutional violations after officers of the law allegedly took residence in two neighborhood homes.
According to a legal filing first obtained by Courthouse News Service, a handful of Henderson Police Department officers and the city itself are being sued for an array of charges — including Third Amendment violations — over an incident that mirrors the making of the American Revolution.
Attorneys for the plaintiffs say police officers demanded they be allowed to occupy two homes owned by their clients on the city's Eveningside Avenue in 2011 in order to conduct an investigation involving a neighbor's residence. When the owners refused to comply with the request, they were reportedly arrested for obstruction and brought to jail.
Police were investigating an incident at 363 Eveningside Avenue that July when Officer Christopher Worley called up the occupant of a neighboring property, Anthony Mitchell, and said he'd need to use his house in order to gain a 'tactical advantage' over the neighbor's residence. Mitchell reportedly made it clear that he did not want to get involved in the probe and told Worley he would not be able to offer assistance. According to the lawsuit, Officer David Cawthorn, Sgt. Michael Waller and Worley all then "conspired among themselves to force Anthony Mitchell out of his residence and to occupy his home for their own use."
"It was determined to move to 367 Eveningside and attempt to contact Mitchell. If Mitchell answered the door he would be asked to leave. If he refused to leave he would be arrested for Obstructing a Police Officer. If Mitchell refused to answer the door, force entry would be made and Mitchell would be arrested," the report determined.
Moments later, the officers "arrayed themselves in front of plaintiff Anthony Mitchell's house and prepared to execute their plan," after which they "loudly commanded" they be let inside. Seconds later, Mitchell's door was knocked down with a metal battering ram and the police entered his home.
"As plaintiff Anthony Mitchell stood in shock, the officers aimed their weapons at Anthony Mitchell and shouted obscenities at him and ordered him to lie down on the floor," the suit alleges.
As the police moved into the home, Mitchell was reportedly called an "asshole" by the cops, ordered to crawl on the floor and then shot several times with non-lethal 'pepperball rounds' from close range. He was then arrested for obstructing an officer while the cops combed through his house without permission, but not before they also opened fire at the plaintiff's dog, prompting it to howl "in fear and pain."
At the same time, officers approached Anthony's parents down the block at 362 Eveningside and asked father Michael Mitchell if he'd accompany them back to a local 'command center' to assist with negotiating the surrender of the neighbor suspected of domestic violence. When he got there, though, he became concerned that the cops had tricked him into leaving so they could try to gain access to yet another home. Michael Mitchell then tried to head back home, but when he left the command center he was arrested, handcuffed and placed in the back of a cop car.
Attorney for the family say there was no reasonable grounds to detain Michael Mitchell, nor probable cause to suspect him of committing any crime. That didn't keep officers from holding both him and his son Anthony for nine hours, however, before they were ultimately released after posting bond.
All criminal counts against the Mitchells were later dismissed with prejudiced, but the family has now lobbed charges of their own. Their attorney is asking for a trial by jury to hear the case and ideally award his clients punitive damages for violations of the Third, Fourth and Fourteenth Amendments, assault and battery, conspiracy, defamation, abuse of process, malicious prosecution, negligence and emotional distress.

You can share this story on social media: