Global leaders, minus Israel's Netanyahu, gather for Washington nuclear summit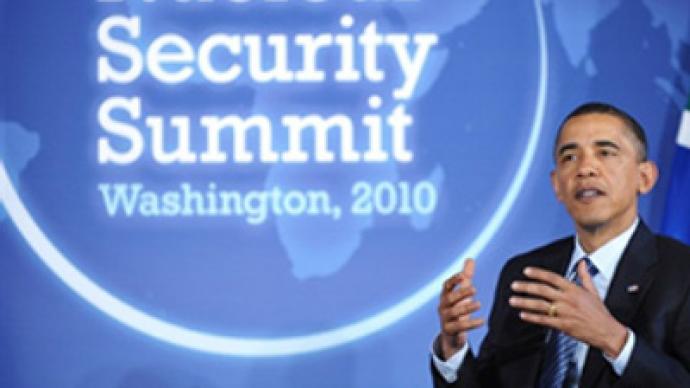 Israel is apprehensive that some leaders at this week's nuclear security summit will use the event to put the spotlight on the nationl's undeclared nuclear arsenal.
The Israeli leader's decision to skip the Washington summit, which will bring together the heads of 47 countries in an effort to safeguard the world's nuclear arsenals, comes at a time of strained relations between Washington and Jerusalem, as well as international hand-wringing over what kind of actions should be taken against Iran, which some nations, including Israel, suspect of working towards developing a nuclear weapon program.
It is expected that up to a dozen Muslim countries, with Egypt and Turkey at the forefront, are planning to use the venue as a platform for demanding that Israel open up its nuclear facilities to international inspection, as well as sign the Nuclear Non-Proliferation Treaty (NPT).
Israeli officials say that Prime Minister Benjamin Netanyahu called off his trip to Washington because he believed Turkey and other Muslim nations would "hijack" the meeting with its demands.
The most vocal critic of Israel's nuclear stance is Recep Tayyip Erdogan, the Turkish prime minister, who says that Israel must be held more accountable over its nuclear capabilities and that he intends to bring up the issue during the two-day summit.
"Until now, we haven't seen any request or intent from the international community with regards to Israel's (armament)," Erdogan told reporters on Sunday before departing for Washington. "We are going to ask the international community: why haven't you addressed this issue?"
The Turkish leader then noted the contradiction of Tehran's nuclear program being scrutinized, yet it is a member of the International Atomic Energy Agency whereas Israel, which is not a signatory to the NPT, is "free to do what it wants."
Erdogan concluded: "We are disturbed by this and will say so.''
Nuclear ambiguity
Although Israel follows a policy of "nuclear ambiguity" – neither confirming nor denying that it possesses such weapons – the Federation of American Scientists puts the number of its nuclear warheads at 75 to 400.
It may be interesting to note that last week Washington released its Nuclear Posture Review, which adds the new guideline that countries signed up to the NPT will not be subject to a US nuclear attack. It could not have escaped Washington's attention that Israel is one of four countries, together with India, Pakistan and North Korea, that is not a signatory to the NPT. Thus, Netanyahu's decision to miss the summit may have been at least partially due to his annoyance at Israel being lumped together with such contentious company.
Meanwhile, US Secretary of State Hillary Clinton said at the weekend that Israel has much to contribute to this week's nuclear security summit, which runs from April 12-13, even though Benjamin Netanyahu will not be in attendance.
In an interview with NBC's "Meet the Press," Clinton stressed that the Israelis "share our deep concern about nuclear terrorism" and will be represented "at a very high level."
Netanyahu is sending Deputy Prime Minister Dan Meridor, along with two senior advisers, to speak on Israel's behalf.
"We have a deep and very close relationship between the United States and Israel that goes back many years. That doesn't mean we're going to agree on everything," Clinton said. "We don't agree with any of our friends on everything."
In response to Netanyahu's cancellation, US President Barack Obama's national security adviser, Jim Jones, said Israel would still have a "robust" delegation at the gathering.
The long-standing Israeli-US relationship hit an unprecedented low point last month when Israeli officials announced the construction of 1,600 new Israeli settlements in highly contested East Jerusalem at the same time that US Vice President Joe Biden was in town in an effort to promote the Israeli-Palestinian peace process. Despite public pledges of everlasting friendship on both sides, tensions remain high between Washington and Jerusalem.
US President Barack Obama, fresh from last week's signing of a new arms reduction treaty (START) with Russian President Dmitry Medvedev in Prague, warned that nuclear materials in the hands of al-Qaeda or another terrorist group "could change the security landscape in this country and around the world for years to come."

Other attendees to the nuclear summit include UN Secretary General Ban Ki-moon, whose office refused to comment on Israeli Prime Minster Benjamin Netanyahu's decision not to attend the summit.
"When he attends next week's summit in Washington, the secretary general will highlight the importance of coordination of global efforts at the national, regional and international level to address these challenges, including strengthening international conventions and institutions," UN spokesman Farhan Haq said in New York.
"He will also discuss his initiatives, including the Action Plan on nuclear disarmament and non-proliferation," he added.
A day of remembrance
On a side note, Prime Minister Netanyahu on Sunday spoke at a ceremony on the eve of Holocaust Remembrance Day, and called on the world "to confront Iran's exterminatory intentions and act resolutely to stop Iran from obtaining nuclear weapons."
"The historic failure of free societies to confront the Nazi beast was that they did not face it in time," Netanyahu said at a Holocaust memorial in Jerusalem. "And today we are witness to the old hatred of Jews once again, fueled by extremist Islamic authorities, led by Iran and its satellites."
"Iran's leadership is racing to develop nuclear weapons and declares its intention to destroy Israel. The world is gradually accepting Iran's exterminatory declarations regarding Israel and still we do not see the international determination required to stop the arming of Iran. But if we learned something from the Holocaust, it is that we cannot remain quiet or flinch in the face of evil," he stated.
It is unfortunate that Netanyahu is missing his opportunity to deliver these poignant words in person before the international community in Washington.
Netanyahu has said before that "all the options remain on the table" when dealing with the possibility of Iran acquiring nuclear weapons, an option that the Russian president described as a "catastrophe" in an interview with ABC News at the weekend.
An Israeli strike on Iran "would be the worst option," Medvedev said. "First, any war means deaths. Secondly, you know what a war in the Middle East can do. The place is so small that no one will stand aside."
Medvedev then said that anything, including the use of nuclear weapons, would be a potential risk in such a conflict.
"If a conflict occurs and a strike happens, anything can be expected, including the use of nuclear weapons. Nuclear weapons used in the Middle East imply a global catastrophe, a huge casualty rate," the Russian president concluded.
You can share this story on social media: