Americans already detained under NDAA?
Published time: 27 Sep, 2012 22:01
Edited time: 30 Sep, 2012 22:16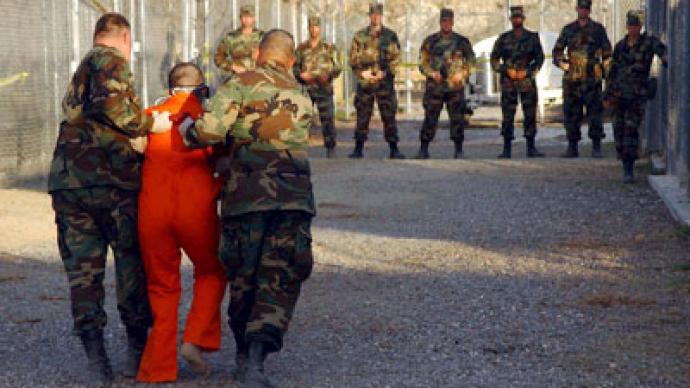 The plaintiffs that are suing US President Barack Obama over his insistence on keeping the National Defense Authorization Act on the books said Thursday that they fear Americans are already being held indefinitely and without trial under the NDAA.
US President Barack Obama refrained from even once commenting on his efforts to keep his power to indefinitely detain Americans without charge when he appeared on Reddit.com recently and urged users to "Ask Me Anything." His opponents in the matter aren't shying away from speaking up online, though.
The plaintiffs in the case to ban the White House from imprisoning Americans indefinitely without trial or due justice took to Reddit on Thursday to answer questions involving the National Defense Authorization Act of Fiscal Year 2012, or the NDAA, and blamed corrupt media for letting the Obama administration maintain its ability to book Americans in military prisons without charge.
On December 31, 2011, President Obama authorized the NDAA, and with it he approved a controversial provision that permits the government to indefinitely detain US citizens without trial for mere allegations of ties to suspected terrorists. Journalists and activists filed a lawsuit against the president earlier this year over the provision, Section 1021, which US Federal Judge Katherine Forrest in turn agreed was unconstitutional. Last month Judge Forrest decided that an earlier, temporary injunction on the clause should be made permanent, but the Obama Justice Department pleaded for an emergency stay only hours later. A lone federal appeals judge has since heard that plea and has momentarily blocked Judge Forrest's injunction. Now pending the results of an appeals panel's formal investigation, the NDAA's indefinite detention provision remains on the books.
On Thursday, the plaintiffs in the case — journalist Chris Hedges, activist Tangerine Bolen, Pentagon Papers leaker Dan Ellsberg, their attorneys and others — told users of Reddit to ask them anything.
"The Obama DOJ has vigorously opposed these efforts, and immediately appealed her ruling and requested an emergency stay on the injunction – claiming the US would incur 'irreparable harm' if the president lost the power to use Section 1021 – and detain anyone, anywhere until the end of hostilities on a whim. This case will probably make its way to the Supreme Court," the plaintiffs acknowledged in their introduction.
From there, President Obama's opponents in federal court combed through hundreds of posts to answer questions regarding the NDAA over the course of several hours. And although the plaintiffs have not exactly been silent with the status of their fight since suing the White House earlier this year, the insight they offered on Reddit provided a fresh update on the case against the NDAA amid some of the government's most unusual legal maneuvers yet.
Offering his take on the case, Hedges said that he even believes the NDAA's indefinite detention clause is already being used to imprison Americans, "because they filed an emergency appeal."
"If the Obama administration simply appealed it, as we expected, it would have raised this red flag," Hedges added. "But since they were so aggressive it means that once Judge Forrest declared the law invalid, if they were using it, as we expect, they could be held in contempt of court. This was quite disturbing, for it means, I suspect, that US citizens, probably dual nationals, are being held in military detention facilities almost certainly overseas and maybe at home."
"The signing statement is the most ridiculous part to this for me. He writes this statement saying he's not happy about the power existing, but then his administration fights so hard to keep that specific power in place," Reddit user devilrobotjesus responded.
"If Obama didn't want it to happen, he would not have signed it, especially after stating that he would veto it," co-counsel Carl Mayer explained. Mayer has represented the plaintiffs in the case of Hedges v. Obama and said that he plans on continuing his pursuit to take indefinite detention off the books.
"We will do whatever it takes," Mayers added. "We are prepared for a Supreme Court battle."
Activist and journalist Tangerine Bolen is also insistent on prevailing over the Obama administration, but says "The biggest obstruction to our winning this case . . . is our broken systems." Bolen blames a lack of media coverage, insufficient public awareness "and the government behaving very badly, even in court, on the record," for the difficulties the plaintiffs have had to endure, adding that the Obama administration's constant missteps have been noticed by no one except "seven plaintiffs, four attorneys, one federal judge and the activists who have been following this case."
"Amazing," she added.
Journalist Chris Hedges extrapolated on Bolen's opinion, singling out "a corporate-owned system of information" for not informing Americans that they can be imprisoned without trial at this very moment.
"MSNBC, which is a propaganda arm of the Democratic establishment, just as Fox is a propaganda arm of the Republican establishment, is not going to raise this as Obama is as guilty as Romney. If we had a healthy press this would have gotten more coverage, although the print media, and in particular my old paper the NY Times, finally did good coverage," Hedges wrote.
Daniel Ellsberg, the former Defense Department employee who achieved notoriety a generation earlier by leaking what became known as the Pentagon Papers, agreed that the system is severely in fault in this instance.
"Virtually every public institution has failed us gravely. Not only the executive, but the courts, congress, most of the media and most of the churches," Ellsberg wrote on Reddit. "Radical reform is needed, even to the point of non-violent revolution. "
Elsewhere, the panel touched on why they believe the Obama administration is so adamantly fighting to keep the NDAA legal.
"It is quite possible that the NDAA is . . . a way to get Julian Assange and WikiLeaks," Bolen claimed. "While the USG has tried to paint us as irrational, delusional and ridiculous, you see the slippery slope here."
On his part, Hedges said that emails hacked by Anonymous and released by Wikileaks show that the US government has attempted to "tie a legitimate dissident group to terrorism and strip them of their right of dissent," to which Bolen follows up with an explanation that supports the ramped up attempts from the White House to persecute whistleblowers and leakers under President Obama
"Yes, of course, if [Assange] is an enemy of the state, then yes, [The New York Times] could be considered to have communicated with the enemy. And perhaps the NDAA is a way to finally nail him," Bolen said.
A three-judge appeals panel is expected to soon weigh in on the stay placed on Judge Forrest's injunction, in the meantime keeping Section 1021 and the rest of the NDAA applicable to every American.