NBC thinks Trump is kidding, Americans think otherwise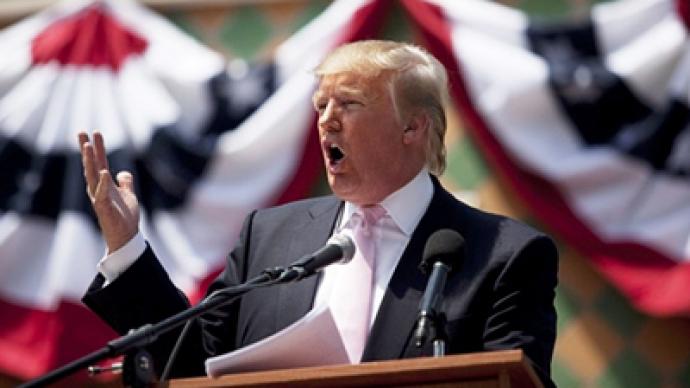 NBC executives recently told the New York Times they feel billionaire Donald Trump is not too serious about his presidential bid. But, a recent poll shows Trump is popular, many want him as the next US President.
Trump, who's show "Celebrity Apprentice" airs on NBC, has been actively toying with the idea of a presidential run, everything from revving up Tea Party activists to investigating Obama's birth, Trump is making himself known. The billionaire, turned reality TV host now seems to be going political. But the executive's at NBC think otherwise. In recent conversations executives expressed doubts about the seriousness of his political aspirations."This is Donald being Donald," said one senior executive.However, many Americans seem to think Trump is not only serious about his plans, but he may indeed be their pick for President come election time. An online poll by Newsmax.com showed Republicans overwhelmingly support Trump for the 2012 nomination. Trump won 57 percent of the poll votes against Republicans Mike Huckabee, Sarah Palin, Mitt Romney and Tim Pawlenty. Another poll by Public Policy Polling indicated Republicans are likely to support Trump and his birther views. The results showed 62 percent of Americans were willing and likely to support a candidate with birther views – namely Donald Trump. According to the results, Trump earned 26 percent, while Huckabee earned 17 percent, Romney 15 percent, Newt Gingrich 11 percent, Palin 8 percent, Ron Paul 5 percent and Michele Bachmann and Pawlenty with 4 percent each.Although NBC executives may feel this is a big publicity stunt, conservative Americans appear ready and willing to vote for Trump in 2012. Amanda Carey, a reporter for The Daily Caller said Trump is merely selling himself, and doing it well. "He obviously has the huge following right now," she said. "He has a sort of populist message that resonates with a lot of people, as crazy as this candidate seems. He's sort of this anti-government anti-establishment guy that says whatever he wants whenever he wants and to whomever he wants to say it. A lot of people appreciate that."While a number of people are supporting his views and agenda, a number of leaders in the Republican Party feel he is hurting Republicans and hurting his own prospects as a valid candidate. "He was an interesting candidate who had a business background and could have contributed to the dialogue," said Karl Rove. "His full embrace of the birther issue means that he's off there in the nutty right and is now an inconsequential candidate. I'm shocked."Carey explained Rove is merely one Republican leader and argued Trumps use of the birther strategy has helped Trump by giving him a lot of attention. In the long run it may flop, which is why most potential Republican candidates are distancing themselves from the issue. "This birther thing is sort of a sideshow that's garnering a lot of a attention and I think that's all it was suppose to do," she commented. "It puts him [Trump] in a bad light." Trump is like a clown. He could have used his business power to have a valid voice in politics, but he opted to attach himself to the fringe, Carey said.
You can share this story on social media: