Loose lips sink SEALS: Elite Navy troops punished for spilling secrets in videogame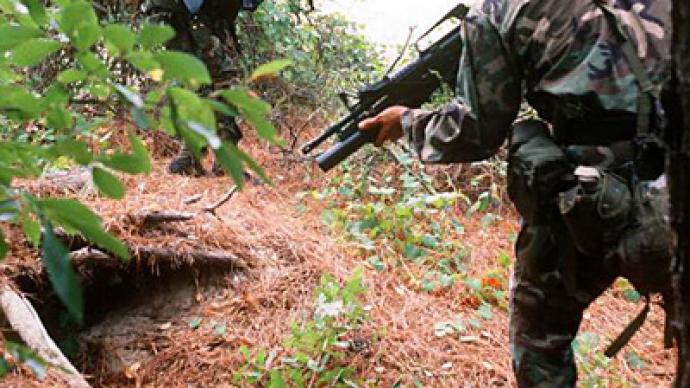 Seven members of the US Navy's SEAL Team Six were disciplined for revealing military secrets while working as consultants for videogame 'Medal of Honour: Warfighter.' The unit is famous for secret operations like the bin Laden assassination.
All seven members were from the elite SEAL Team Six, and were paid consultants for two days during the production of the videogame this past spring and summer.
Reportedly, only one of the consultants was personally involved in the assassination raid that killed Osama bin Laden in 2011, making SEAL Team Six a household name in US.
All seven SEALs received letters of reprimand. They will also have half their pay withheld for two months, but will remain on active duty. Four other members of the team have been transferred out of the unit and are currently under investigation.
"We do not tolerate deviations from the policies that govern who we are and what we do as sailors in the United States Navy," Deputy Commander of Naval Special Warfare Command Rear Admiral Garry Bonelli told AP.
Videogame developer Electronic Arts boasted that real commandos, both active and retired, were involved in the making the game.
It is not yet known what secrets the SEALs divulged, but they did share classified information that was given to them by US Navy, violating the organization's unwritten rule that its members should not attract public attention.
Though the videogame does not recreate the bin Laden raid, it does allow the player to reenact a realistic military raid.
Medal of Honour: Warfighter
Rising public interest in elite SEAL unit
Despite the unwritten code of staying out of the public eye, the Navy SEALs have been far from invisible, especially after the bin Laden's raid; their special operations missions have dominated media headlines and public speculation.
The unit has recently been in the Hollywood spotlight with the release of a movie about the bin Laden raid, and another film about a covert SEAL rescue mission titled 'Act of Valor.'
Another SEAL-themed movie, this one about a fictional battle against Somali pirates, is also slated for release.
Admiral William McRaven, the commander of the bin Laden raid and now the head of Special Operations Command, sees this increased notoriety as an opportunity to increase recruitment, he told AP.
However, it's still considered taboo when an individual SEAL speaks out about their experiences and missions.
Former SEAL Matt Bissonnette published a book titled 'No Easy Day' under the pseudonym Mark Owen. In it, he detailed his personal experiences in the 2011 bin Laden raid. Bissonnette's narrative differed from the official account, sparking controversy.
Since the book was not reviewed by the Department of Defense prior to being published, military officials warned that criminal charges could be brought against Bissonnette for disclosing classified information.
Bissonnette wrote in the book that he wanted to "set the record straight" about the bin Laden raid – he may now face a hefty punishment for it.