Escaped Michigan murderer nabbed in Indiana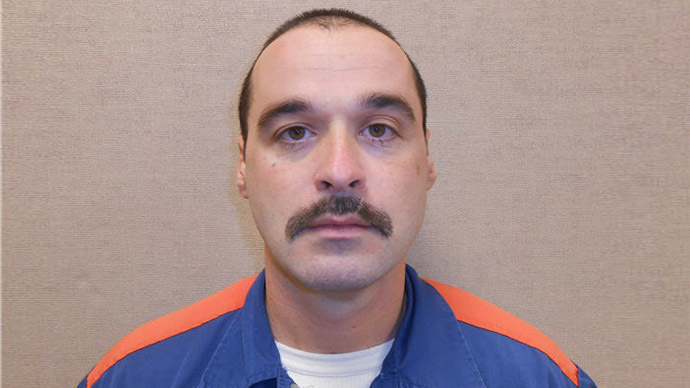 A man convicted of four murders who escaped Sunday from a Michigan prison has been captured in Indiana following a traffic stop. He reportedly abducted a woman and stole her Jeep at a gas station in order to flee the state.
Michael Elliot, 40, managed to escape the maximum-security prison in Ionia, Michigan, on Sunday evening by taking advantage of vulnerabilities in the institution's fence system.
"It appears that he created a hole at the bottom of the two perimeter fences of the correctional facility and then crawled through those holes," Michigan Department of Corrections spokesman Russ Marlan told the Associated Press.
The escape sparked a nationwide alert, though Elliot managed to get only across the state line, to LaPorte County, Indiana, roughly 150 miles from Ionia. Indiana State Police Sgt. Ron Galaviz told AP Elliot was stopped by a sheriff's deputy investigating a stolen vehicle. Elliot fled the scene, but was nabbed by law enforcement soon after.
Elliot was convicted on four counts of first-degree murder back in 1993 and was serving a life in prison. In addition to the murder charges, MLive noted he was convicted of armed robbery, arson, and entering without breaking.
According to Marlan, soon after escaping, Elliot kidnapped a woman armed only with a box cutter and a hammer. He drove her and her Jeep vehicle 100 miles south to a gas station in Elkhart, Indiana, where the woman was reportedly able to escape and call authorities as he pumped gas.
The woman told authorities she was able to call 911 from a concealed cellphone. She ran to a restroom at the store and locked herself inside. Elliot knocked on the door, but she stayed there until police arrived.
As reported by another ABC affiliate, XZZM, Michigan Corrections Department Director Dan Heyns stated that all other prisoners in Ionia have been accounted for, and that they don't believe any other inmates aided Elliot. The director said the perimeter fences through which Elliot escaped have been fixed. He promised to open a full investigation into the incident.
You can share this story on social media: