One year after high profile debut, questions remain about Six-Strike policy's effectiveness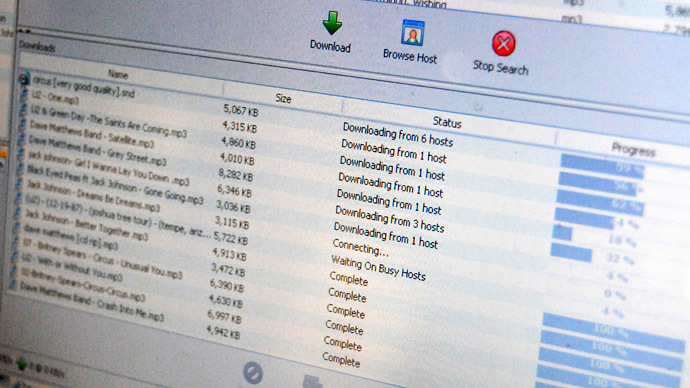 This month marks the one-year anniversary of the so-called six-strike program that internet service providers launched in an attempt to curb online piracy. Observers now wonder, though, if the scheme has even had a chance to be successful.
Last year the Motion Picture Association of America (MPAA), Recording Industry Association of America (RIAA), and five of the largest internet service providers (ISPs) in the US announced that they would introduce the six-strike plan in an attempt to educate the public about internet piracy. The plan, which officially celebrates its one-year anniversary on Tuesday, targeted internet users suspected of illegally downloading music, movies, software, and other content to their computer.
Instead of using the consistently unreliable method to sue suspected pirates, though, the six-strike method would use a series of messages to notify a person that their computer had been used to obtain copyright material. The notifications turned to warnings as the number increased, with many ISPs warning that they would temporarily suspend an individual's internet connection if they ignored consecutive advisories.
The exact method and punishments varied among the different ISPs. Time Warner Cable, Cablevision Systems, Comcast, Verizon, and AT&T each agreed to the plan, which also had backing from the major Hollywood studios and the Obama administration.
As soon as the idea was announced it was viewed with suspicion. Critics were especially upset over the idea that an ISP would be permitted to halt a customer's connection, especially after a series of court rulings declaring that copyright enforcers could not sue an offender based on their IP address alone.
That outcry quickly fizzled, though, and was followed by silence on both sides of the issue. TorrentFreak reports that the Center for Copyright Information (CCI), which oversees the program, issued no press releases over the past year and has only made headlines when the group was criticized for attempting to institute an anti-piracy ideology into the kindergarten education curriculum.
This oddity is accompanied by relative quiet online and on social media from the normally vocal pro-piracy community. The CCI does not appear to have released any statistics whatsoever regarding the number of people warned about their activity, how many people had their internet suspended, or any other factors that may have been cause for debate last year.
There has also been no indication that traffic to BitTorrent sites has subsided. In fact, online traffic to The Pirate Bay, by far the most popular site used by pirates hoping to share or download material illegally, has more than doubled over two years. The Swedish-based site did not disclose any exact figures but did tell TorrentFreak that traffic increased by 113-percent between March 2011 and September 2013.
Perhaps inspired by the American effort to fight piracy, the French government adopted the HADOPI law in an attempt to convince internet users to legally buy the software and entertainment they consume. The law was revoked in July 2013 after authorities agreed that the penalties imposed were disproportionate to the crime committed.
Still, a research study conducted by the University of Delaware in conjunction with French academics found that such threats had no effect on online theft. A paper published in January 2014 used data found in a survey of 2,000 French internet users determined that a three-strikes law would not be enough to impede someone's piracy intentions.
"Consistent with theoretical predictions, our econometric results indicate that the HADOPI law has not deterred individuals from engaging in digital piracy and that it did not reduce the intensity of illegal activity of those who did engage in piracy," the researchers wrote, as quoted by TorrentFreak.
"While several factors affect the perceived probability of detection under the law, our results show that the propensity to engage in illegal file-sharing is independent of these beliefs," they went on.
You can share this story on social media: