Moscow and Washington scramble to reset START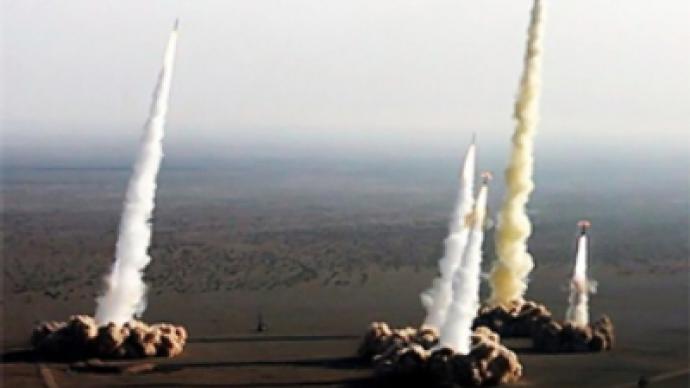 Russian and US diplomats are working feverishly to draft a document to replace START-1, set to expire on December 5, just five days before the US president is to receive the Nobel Peace Prize.
Russian President Dmitry Medvedev, whose administration has seemingly pulled off a diplomatic coup by getting Iran to come clean with its nuclear program, is hoping to add another feather in his cap by sealing a nuclear treaty with Washington by early December.
A memorandum was signed by Presidents Barack Obama and Dmitry Medvedev in Moscow on July 6, 2009, which is set to reduce the number of deployed warheads on each side to 1,500–1,675 and 500–1,100 for delivery systems.
But the clock is ticking, and officials from both sides fear there may not be enough time to draft a new treaty before the expiration date.
This week, US National Security Adviser James Jones was in Moscow to help lay the groundwork for the new treaty.
"I consider your visit to Russia very timely," Foreign Minister Sergey Lavrov said. "Only the most intensive work allows us to implement the agreements reached by our presidents in order to do all the necessary things to sign a new strategic offensive arms reduction treaty as soon as the current treaty expires."
Meanwhile, Foreign Ministry spokesman Andrey Nesterenko remained optimistic that both sides would hammer out a deal in time.
"We are sure that the trip will facilitate the successful completion of the… talks in time," Nesterenko said, as quoted by Itar-Tass.
According to US National Security Council spokesman Benjamin Chang, the two countries' diplomats reached an agreement during the October 28-29 visit by Jones.
Russia and the US officials agreed "to make every effort to fulfill their presidents' pledge to conclude negotiations for a new treaty by December," Chang said.
Will America's missile defense plans play spoiler?
The one issue that can upset December's much-anticipated signing ceremony involves America's plans for a missile defense system in Europe.
In September, Obama won applause from Moscow with his decision to "shelve" the Bush-era brainchild, which Moscow regarded as a direct threat to its national security. But that does not mean the system is dead.
The American president then announced plans for a "new approach" to handling theoretical future threats to Eastern Europe, specifically by deploying interceptor missiles on ships.
On September 19, Obama's Defense Secretary Robert Gates (who, it is important to remember, served in the very same position under George W. Bush) described America's new plans for missile defense in Europe, which certainly has no small significance for the START talks.
"In the first phase, to be completed by 2011, we will deploy proven, sea-based SM-2 interceptor missiles – weapons that are growing in capability – in the areas where we see the greatest threat to Europe," Gates wrote in an op-ed piece in The New York Times.
"The second phase, which will become operational around 2015, will involve putting upgraded SM-3s on the ground in Southern and Central Europe," Gates continued. "All told, every phase of this plan will include scores of SM-3 missiles, as opposed to the old plan of just 10 ground-based interceptors."
So in some important ways, the "watered down" version of America's missile defense system is more flexible and effective than the "old plan."
Gates went on to say that the new missile defense system "will be far more effective form of defense should an enemy fire many missiles simultaneously – the kind of attack likely to occur, as Iran continues to build and deploy numerous short- and medium-range weapons."
Finally, he discussed the technical aspects of the new plan, which seems every bit as lethal as the original Bush model.
"Steady technological advances in our missile defense program – from kill vehicles to the abilities to network radars and sensors – give us confidence in this plan," the US defense minister wrote. "The SM-3 has had eight successful tests since 2007, and we will continue to develop it to give it the capacity to intercept long-range missiles like ICBMs."
That's straight out of the old warhorse's mouth: "intercept long-range missiles like ICBMs." Is it any wonder that Moscow is demanding that any updated START treaty include direct links to any US missile defense system in Europe?
Moscow feels confident that it has defeated the Trojan horse of a US missile defense system in Eastern Europe, but it has failed to overcome all of the extra provisions that that wooden horse was carrying to its border.
Washington says its missile defense system is not a threat to Russia, which has hundreds of missiles that can overwhelm any defense on earth. Indeed, surely Washington would feel a bit of cold comfort if Moscow offered similar assurances on, say, a missile defense system somewhere in South America, for example.
Needless to say, Russia wants more details on the new plans, which seem to have appeared too rapidly to have been an afterthought.
"The US has dropped its missile defense plans [for Central Europe], and developed an alternative system that would not create problems in its first phase," Lavrov told RT and other media in an exclusive interview. "But we would like more details on further stages."
However, there is ongoing speculation that this week's talks in Moscow produced some much-needed headway on this very issue.
Kommersant, Russia's business daily, reported that compromises had been reached on two key issues: the limit on the number of "carriers" that can deliver warheads, and how the START replacement treaty will address the question of American plans to build missile defense systems in close proximity to Russian borders.
A Nobel reason to move fast
There is one more reason, at least from Washington's perspective, to come up with an agreement before the December 5 expiration date: Barack Obama's Nobel Peace prize, which might seem more realistic if he picks it up with at least one international peace initiative under his belt.
Moscow and Washington want to reach a deal on a key nuclear disarmament treaty before US President Barack Obama receives his Nobel Peace Prize on December 10 in Oslo, Norway, a Kremlin source was quoted as saying Friday.
The source, quoted in the Kommersant daily, said the Obama administration wanted to sign an agreement on replacing the Strategic Arms Reduction Treaty (START) before the Nobel ceremony and that Moscow was willing to oblige.
"On December 10 the ceremony for awarding Nobel laureates will take place… Our partners want the document to be signed before the Nobel Peace Prize is given to Barack Obama," the Kremlin source was quoted as saying.
"We are not against this," he added, according to Kommersant's source.
But should Moscow feel pressured to ram through a renewed START document just so Obama can feel he deserves the award? Will Moscow be criticized for "playing spoiler" to Obama's Nobel night in the event that it refuses to sign on the dotted line any new nuclear arms cut deal that is not linked to America's sprawling missile defense system?
Probably not.
You can share this story on social media: