Monsanto unapproved GMO wheat govt-stored up to 2011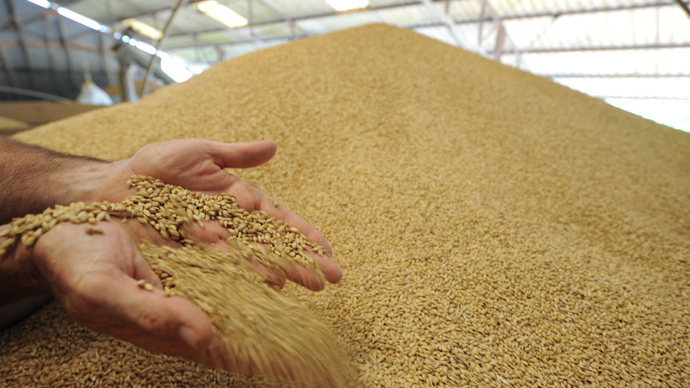 Monsanto's unapproved GMO wheat, which made its way onto an Oregon field and is feared to have contaminated US wheat supplies, was stored at a US government-controlled facility until at least late 2011.
The confirmation that the controversial strain of wheat was stored at the National Center for Genetic Resources Preservation in Fort Collins, Colorado, comes as US Department of Agriculture (USDA) investigates how the unapproved wheat ended up in an Oregon field this spring.
The documents detailing shipments of the bioengineered wheat received by Reuters consist of correspondence between Monsanto and the Colorado facility. The site can store seeds for decades while retaining their viability, much longer than is possible with conventional storage.
Monsanto insists the contamination of the field was sabotage. The company suggested earlier that someone was able to secretly access bioengineered wheat, which had been made resistant to Roundup, a Monsanto-sold pesticide, and planted it in the Oregon field to damage Monsanto's work with biotech crops.
The USDA announcement of the discovered bioengineered wheat on an 80-acre farm in Oregon opened up a probe into the matter.
The plant was developed by Monsanto between 1998 and 2005, but was never approved or made into a commercial product.
The company has thus far failed to determine how the crop entered the environment, and insisted that all genetically-modified seeds stored at the high-tech Colorado facility were incinerated on January 5, 2012.
"At our direction, the seed was destroyed ... as it was old material and we had no plans for its future use," said Monsanto spokesman Thomas Helscher.
The seed storage at Fort Collins received 43 physical containers of Monsanto's wheat that contained more than 1,000 unique varieties, documents reveal.
Some of the wheat was also stored at Monsanto's facilities in St. Louis, Missouri.
The USDA is currently trying to confirm that all Monsanto seeds were accounted for and destroyed as the company reports.
The agency is investigating how Monsanto's GMO wheat was handled when transferred to Fort Collins in late 2004 and early 2005 after the contract for the storage of wheat was set in November 2004.
At the time Monsanto was in the process of shutting down work with the so-called 'Roundup Ready' wheat.
There is no indication that the GMO wheat made it to commercial supplies, but it cannot be held responsible for wheat sent elsewhere, USDA spokesman Ed Curlett said.
The contamination scandal has hurt US grain exports, as Japan and South Korea issued import restrictions in the wake of the discovery. US farmers have filed several lawsuits seeking damages from Monsanto.
There had been worldwide protests held against GMO-companies, primarily Monsanto, which is viewed globally as a champion of bioengineered foods.
You can share this story on social media: