Missouri bans Vonnegut's iconic book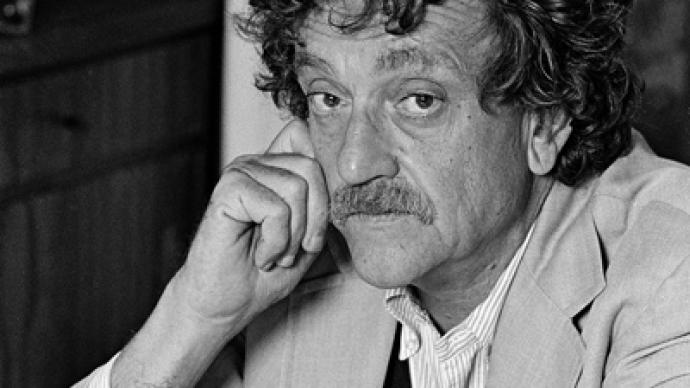 Wesley Scroggins is easily offended. Homosexuality and oral sex don't seem to be his cup of tea, and that's why he lashed out at the Republic School District in Missouri last year for teaching those "concepts" in the classroom.
In the editorial that Scroggins wrote in the News-Leader out of Springfield last year, the professor of management from Missouri State also attacked Slaughterhouse-Five, an iconic American piece of literature penned by war-vet Kurt Vonnegut in 1969. The content, said Scroggins, is shocking. Vonnegut's satirical take on war and free will has too many swear words for Scroggins, as well as inappropriate imagery of naked men and women in cages, and even some questionable religious content.Scroggins' crusade against the controversial book has led to the barring of the novel in Republic Schools, but First Amendment advocates and vigilant fans of Vonnegut are stepping up to make sure kids are still afforded the opportunity to experience a great piece of American lit. Now students can sign up online to receive a copy shipped to their home thanks to an anonymous donor that is providing for the books. Other advocates can also contribute online on their own by waging PayPal donations that will go towards the cause. "We think it's important for everyone to have their First Amendment rights," says Julia Whitehead of the Kurt Vonnegut Memorial Library. "We're not telling you to like the book … we just want you to read it and decide for yourself," adds the museum's executive director in a note posted to their website. So committed is the Vonnegut Library that they are sending 150 free copies of the book to any Republic High School students that want to read it. With the book barred from the shelves of the school's own library, Whitehead wants to make sure they are still afforded the opportunity to read it.Whitehead tells the Huffington Post that it is "shocking" and "unfortunate" that young adults aren't considered "mature enough" to handle the words of Vonnegut. "Everyone can learn something from his book," she adds.Meanwhile, Republic High School Superintendent Vern Minor is aware of the handout, but stands by the board's decision to bar the book. "It's just one of those topics," he tells the News-Leader. "It just conjures up some strong emotions in people."Strong emotions? How dare high school students have to experience those! Whitehead adds that those otherwise being prohibited from feeling those…those…feelings(!) are the future of America. "All of these students will be eligible to vote, and some may be protecting our country through military service in the next year or two," she adds.Scroggins has responded to the ban by offering up congratulations to the school board for their decision, and says it's unfortunate that another book he opposed, Laurie Halse Anderson's Speak, remains on the shelves.For the record, Scroggins' own children won't necessarily be affected by the ban; he schools them from home.
You can share this story on social media: