Under shadow of missile umbrella, US and Russia work to reset START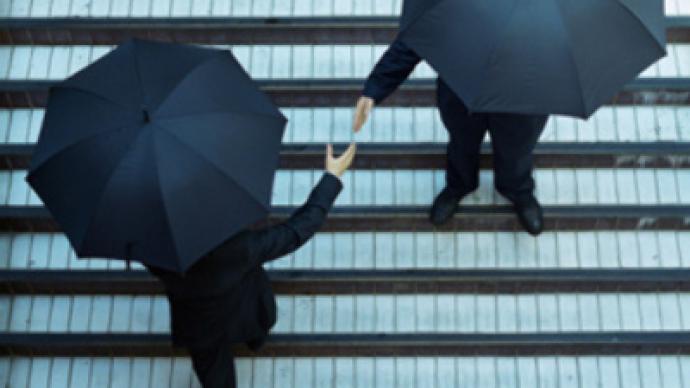 As negotiators fail to pass a new START treaty before the start of the New Year, Moscow says concerns over Washington's planned global missile umbrella are holding up talks.
When US President Barack Obama announced in September that he would scrap his predecessor's plans for a missile defense system in Eastern Europe, a stone's throw from the Russian border, all of the enthusiastic predictions about a US-Russia "reset" seemed to be materializing before our very eyes.
But then Obama shifted gears on his original statement, saying instead that his administration would be "overhauling Bush-era plans for a missile defense shield in Europe."
In other words, the world would be blessed with Obama's new and improved "Missile Defense Lite," as some pundits have erroneously described the new system.
US Defense Secretary Robert Gates, speaking from the Pentagon immediately after his Commander-in-Chief's noble announcement, seemed quite happy about Obama's change of plans.
In fact, hearing Gates describe it, the new missile defense system, which the Pentagon insists would only zero-in on the global bad guys, like Iran and North Korea, sounded even more marvelous than the previous version.
"This new approach provides a better missile defense capability for our forces in Europe," said Robert Gates, who perhaps tellingly served as defense chief in the Bush administration and stayed on when Obama took office. "[It is better] for our European allies and eventually for our homeland than the program I recommended almost three years ago."
Obama's revamped system will have mobile radar units, including some in space, "that can move to wherever the threat actually emanates and wherever we feel we need to defend ourselves," added Gen. James Cartwright, deputy chairman of the Joint Chiefs of Staff, in an interview with CNN.
Cartwright contrasted the new sensor technology with the radar systems envisioned in the old plan, which he called "basically left over from the Cold War."
Is it any wonder, then, that Moscow is demanding more details about the new system? After all, how can Moscow turn a blind eye to a "harmless" military system – hard-wired as it is to neutralize a nation's security apparatus – that it knows next to nothing about? The United States refuses to release the secret ingredients of Missile Defense Lite, yet the Obama administration feigns astonishment when Moscow refuses to swallow the new product.
Now, with talk of failed START negotiations hanging heavy in the air, Barack Obama risks losing the Hope (yes, with a capital H) that the international community entrusted to him, albeit a bit impulsively, perhaps, when he was awarded the Nobel Peace Prize last year.
"Barack Obama's Nobel Peace Prize," Julian Borger wrote in his Global Security blog, "was a European down-payment on expected future actions – most of all in the field of nuclear disarmament, on which Obama's rhetoric had soared highest and his intentions had been clearest."
"Delivering the goods," laments Borger, "has… turned out to be a more complicated matter."
Indeed, the American side believes that the START negotiations is a completely separate issue from "defensive weapons" like missile defense. Unfortunately, they are mistaken.
"Putin suggested… that the US should hand over data about its missile defense system," Borger continued. "This was ruled out by Washington on the grounds that START is supposed to deal with offensive, not defensive, weapons."
At the start of the New Year, Prime Minister Vladimir Putin gave a candid assessment of the new missile defense system, and underlined that the question of missile defense cannot be separated from that of a new arms agreement.
"The problem is that out American partners are building an anti-missile shield and we are not building one," Putin told reporters with his trademark bluntness. "At the same time missile defenses and offensive weapons are closely interrelated issues."
Putin then reiterated Russia's position that a global US missile shield would upset the strategic balance of forces between the two most powerful nuclear weapons nations. In other words, it would be simply foolhardy for Russia to sign up to an arms reduction treaty without at least knowing the details of America's revamped missile defense system.
"There is a risk that once they build a [missile] umbrella against our offensive systems our partners will feel totally safe," the Russian prime minister told reporters in the Russian port city of Vladivostok. "The balance will be broken. They will feel free to act with impunity."
Putin concluded that whatever the case Russia would have to develop new offensive weapons to maintain military parity with the US.
Presently, it seems that US officials are hoping that Russia will accept an "unknown good" (that is, Obama's yet disclosed global missile defense plan) over the "known evil" of the scrapped Bush plan.
This is proving to be wishful thinking on Washington's part, and is only serving to delay the passage of a new START.
START talks will resume again in Geneva, possibly as early as this week.
Evgeny Sukhoi contributed to this article
Expert's comments
"US and Russia seem to go in right direction"
Ivan Timofeev, Director of the Center for Analytical Monitoring at Moscow's State University of International Relations, told RT, that both countries are showing optimism and demonstrate the decisiveness to sign a new treaty:
"There will be some changes after the treaty is signed – first of all, a quantitative change. The capabilities will be reduced, also the procedures of verification may be changed," he added.
Russia-US: there must be a compromise
Political analyst Victoria Panova considers, there is a possibility that there will be no legal agreement on disarmament to replace the outdated START treaty, but rather a political declaration instead:
"That would be a bad signal to all those countries that either have nuclear potential or are striving to achieve it to go further with that and escalate the arms race – that could be a danger," believes Panova.
She continued, saying that "If they [Russia and the US], possessing 90% of the world's nuclear arsenals, fail to agree on making less nuclear stocks then the other countries would not be considering them being serious in keeping their promises."
"Obama will not rush with START"
Joseph Cirincione, president of the Ploughshares Fund says, President Obama will not rush to negotiate the new START treaty, despite Russians expecting he will:
"There is no way he [Obama] is going to rush this treaty," Cirincione said. "He is more interested in getting it right than finishing it by some arbitrary deadline."
He also added that Russians may misunderstand Obama's motivation, just like right wing politicians in the USA.
"The Russians seem to be convinced that what the right wing in the United States has been saying about president Obama is true – that he is weak and vain and is more interested in securing the treaty than in getting the treaty right," Joseph Cirincione said.
"They believe than Obama wants to finish the treaty before he goes to Oslo on December 10 to pick up his Noble Peace Prize and they are using tough negotiating tactics and refusing to agree on the last few details in the hope of gaining a concession. I think that this is a misreading of Obama."
"No surprise in missing the new START deadline"
Political analyst Mikhail Troitsky says, it usually takes years to work out a treaty of this scale. Also the pace at which the two teams of negotiators have been working on the new START draft was really unprecedented.
"There is no surprise many technical details need to be sorted out in due course, and setting deadlines is very useful in that situation, but unless some minor details are agreed upon, neither side can give the green light to the whole treaty to be signed," Troitsky says.
He adds, missing the deadline of December 5 is a worrying sign to some extent, because there's no other strict deadline which has yet been announced so talks could continue indefinitely.
But Troitsky believes that the American move of withdrawing their inspection team from Russia, as well as the declaration that the two presidents have announced today, are fairly good signs.
"We may expect the talks to be completed in the foreseeable future, maybe even in December," he concluded.
Meanwhile, Viktor Kremenyuk, Deputy Director of the Institute for US and Canada studies says the success of the new treaty will depend on the will to compromise:
"The treaty will be, to a large extent, an exchange of compromises", Kremenyuk says, "Americans will have to sacrifice something, the Russians will have to sacrifice something. So the question is what each side will sacrifice, how much does that cost and, depending on that, there will be a reaction on the part of the legislators."
Documents related:
Russia-US Document of Understanding on START follow-on
Read also:
Experts on new Russia-US START treaty
You can share this story on social media: