Michigan man kills himself while demonstrating gun safety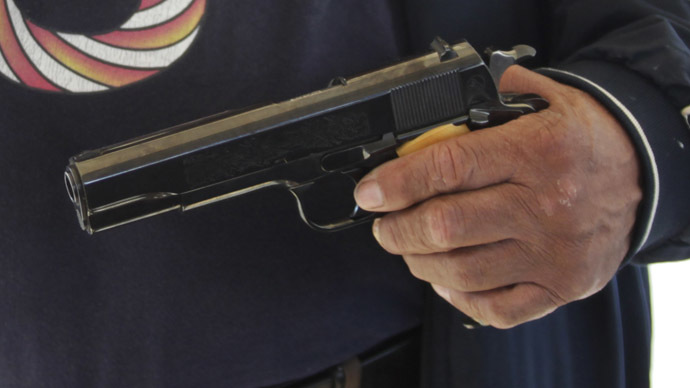 A Michigan man from Independence Township accidentally killed himself after reportedly firing a gun into his head while attempting to demonstrate how safe the weapon was.
The 36-year-old man's girlfriend told law enforcement that he'd been drinking throughout the day when the incident occurred Sunday evening. Police told the Oakland Press that when they arrived at the home, the girlfriend was performing CPR on the man. He was declared dead at the scene.
Authorities have declined to release the names of those involved until the family has been notified. The girlfriend had been living with the man at the time with her three children, aged seven, 10, and 12.
According to the Oakland Press, the man was explaining to his girlfriend that his three guns were safe when not loaded. Police said he put two guns to his head and pulled the trigger, but when he did the same with the third gun, it discharged and a bullet went into his head.
"(The situation) is pretty unique, as I have never heard of anyone testing out the safety of a gun by pointing at their head and pulling the trigger," Undersheriff Michael McCabe told the newspaper.
The man's death has been ruled a suicide by the Oakland County Medical Examiner.
There have been numerous incidents related to accidental gun discharges over the last few years. Last week, a Florida man accidentally shot himself in the leg after leaving a gun safety class and manipulating his weapon in the parking lot. He was taken to a hospital and treated.
Just two months ago in Michigan, the vice president of the United Automobile Workers union, General Holiefield, mistakenly shot his wife in the stomach while cleaning a loaded gun. Fortunately, she survived the incident, and Holiefield pleaded no contest to misdemeanor charges.
In August 2013, meanwhile, the instructor of a gun safety class in Ohio accidentally shot one of his students while he was demonstrating the firearm to the class. He apparently did not realize the gun was loaded, and the boy survived after being struck in his arm.
You can share this story on social media: