Miami Crime Stoppers head avoids jail time after eating anonymous tip in court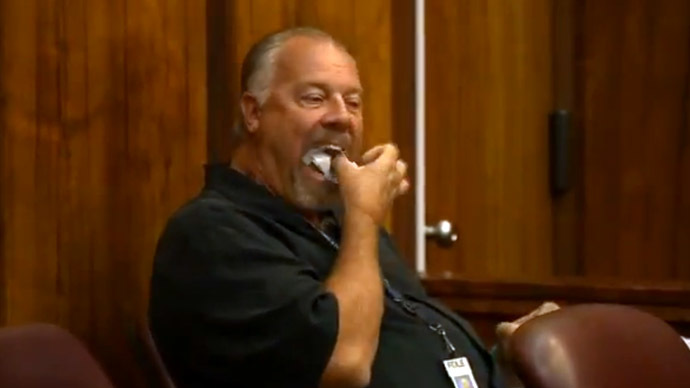 The head of the Miami-Dade County Crime Stoppers program in southern Florida will not serve jail time despite being found in contempt of court last week for eating a piece of paper containing information sought by a circuit judge.
Richard Masten, the program's executive director, will instead have 30-days to complete a report about laws concerning anonymous tips to be handed in to Circuit Judge Victoria Brennan next month.
Judge Brennan handed down her decision on Thursday afternoon, six days after Masten ate a piece of paper in court that contained details about an anonymously made tip provided to his local Crime Stoppers group.
During last week's hearing, Masten said he wouldn't supply the court with the paper containing a tip used to make an arrest for cocaine possession last year against a Florida woman.
"Masten feared releasing information contained in the tip could lead to the identity of the tipster — trumping the very foundation Crime Stoppers relies on, anonymity, and the main reason for its success," Charles Rabin wrote for the Miami-Herald on Thursday.
"They would like to see them made into a witness and have to answer for that. But once that ever happens, we're going to lose our program. No one will trust us anymore," Masten told CBS Miami.
Instead, Masten ate the paper last week while cameras rolled on the otherwise routine hearing. Before long, video footage of the incident appeared on national cable news.
"I mean I don't like the idea of going to jail, but I didn't really have any alternative," he told CBS News afterwards. "The way I look at it, we make a solemn promise to our tipsters that we'll never let them be identified."
After being found in contempt by Brennan, Masten faced the possibility of a fine and anywhere from two weeks to two years in jail. Instead, he paid a $30 fee and will likely receive probation once his report is handed back to the court.
"I believe your motives are good," Brennan said during this week's sentencing, according to Rabin. "But I believe you lack certain understanding. There's nothing honorable ever, about ignoring a court order."
Crimes Stoppers USA — the national organization that works with the Miami-Dade chapter and other local units around the country — applauded Masten's unexpected, mid-hearing snack.
"Local Crime Stoppers programs should do everything they legally can to protect the people who provide that information. Most, if not all states, have some form of protection for Crime Stoppers informants," the organization wrote in a release sent to the Herald.
"I'll do it again," Masten told reporters with the Associated Press after Thursday's hearing. "We're going to protect Crime Stoppers tips. We're not going to give it up."
According to the AP, Masten served as a police chief for 35 years before taking on his current job at the local Crime Stoppers office.
"Though I didn't go to law school, I have a clear understanding of the law. I'm guilty, now I have a criminal past," Masten told Rabin. "But while the law may state certain records are available, I contend tips are not."