Second person dies, three others in critical condition after Miami bus airport crash
Published time: 1 Dec, 2012 16:09
Edited time: 1 Dec, 2012 20:41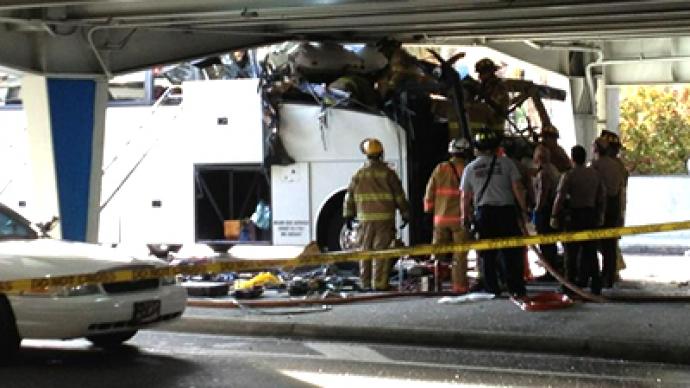 A second person died in hospital Saturday morning after a bus crashed into an overpass at Miami International airport.
Three other people have been taken to hospital in critical condition.

More than two dozen others were injured in the crash.

Officials say the bus was carrying 32 people when it crashed into the overpass. The bus was traveling at approximately 20 miles per hour.
Airport spokesman Greg Chin says the bus was too high to pass beneath the 8-foot-6-inch overhang at the arrivals area.
According to Miami-Dade police Lt. Rosanna Cordero-Stutz, the driver was not familiar with the area and did not intend to arrive at the airport. The driver is being interviewed by investigators.
The bus is privately owned and generally used for tours, although police believe all the passengers were local residents – not tourists.
The arrival area remains blocked off by fire trucks and police cars.
Chin says buses are supposed to travel through the departures area instead of the arrivals zone, due to its higher clearance ceiling.

Image from twitter user@fguzmanon7