State of emergency declared across Mid-Atlantic after deadly storms, heat wave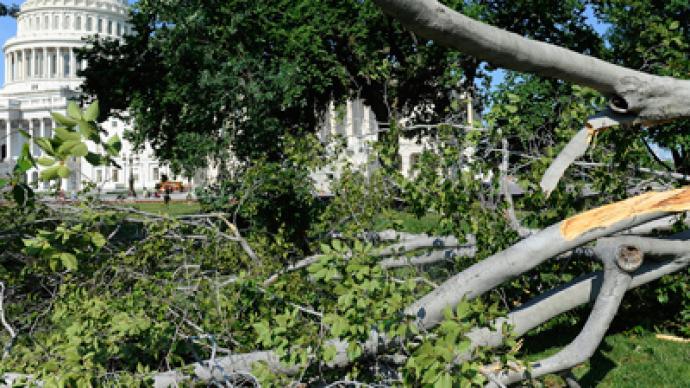 Violent storms in the DC area have killed at least 13 people, uprooted thousands of trees and left over 1.3 million homes and businesses without power across the Mid-Atlantic during a powerful heat wave. Popular Internet services went down too.
States of emergency were declared in Maryland, Virginia, Washington DC, Ohio, and West Virginia on Saturday after storm winds hit almost 130 kilometers per hour and caused a series of fatalities, while reports from power companies have warned it may take up to a week to restore electricity. Officials are extremely concerned about the outage occurring in the middle of a record heat wave. The area affected by the storms was far ranging, including New Jersey and Indiana. However, the most extensive damage occurred in West Virginia, Virginia, Maryland, and Washington DC.At least four people were killed by falling trees, reports the Washington Post, citing local police officials. Two of the fatalities occurred in the Springfield area of Virginia's Fairfax County. A male driver was killed at Old Keene Mill Road and Bauer Drive when a tree struck his car. A 90-year-old woman was killed in her bed when a tree fell on her house.A falling tree has also killed a 71-year-old woman in her bed in Silver Spring in Maryland's Montgomery County. And a 25-year-old Edgewater man died when a tree fell on his car as he drove on Harwood Road in Anne Arundel County.One person died in Washington, DC, after accidentally touching a live electrical wire. Following the incident the Pepco electric service provider issued a warning urging people to be cautious around the numerous downed power lines.Two more deaths have been reported in Albemarle county and two others in Bedford county, both in the state of Virginia. One person is reported missing after a boat capsized Friday night off Chesapeake Beach in Calvert County, Maryland. Four others have been rescued.Virginia Governor Robert McDonnell said Friday night's storm had triggered the largest non-hurricane power outage in state history. It has also forced the closure of 250 roads because of fallen trees."This is a very dangerous situation for Virginia," McDonnell said. "Recovery will be difficult… It's going to be days before power is fully restored in the commonwealth."President Barack Obama has called McDonnell and Maryland Governor Martin O'Malley, as well as the governors of Ohio and West Virginia, to offer the federal government's help.Hurricane-like storms have also knocked out an Amazon data center in Ashburn, Virginia. A number of popular Internet services, including Netflix, Pinterest, Heroku and Instagram have been cut off for several hours, something that did not go unnoticed by their users worldwide."Severe thunderstorms caused us to lose primary and backup generator power to an Availability Zone in our east region overnight," an Amazon spokeswoman Tera Randall said on Saturday. "We have restored service to most of our impacted customers and continue to work to restore service for our remaining impacted customers."Meanwhile, temperatures have been breaking the 100°F-mark (38°C) for two days in a row, and are not expected to be any lower on Sunday. Local authorities have open libraries, swimming pools and cooling centers to provide residents with respite from the heat.Malls around the region are jammed with people buying power outlets for their phones and computers. Long lines are also reported at gas stations where power is still available.More storms are expected later on Saturday, though they are unlikely to be as widespread or powerful as Friday's.