Marine Corps apologizes for offensive MLK tweet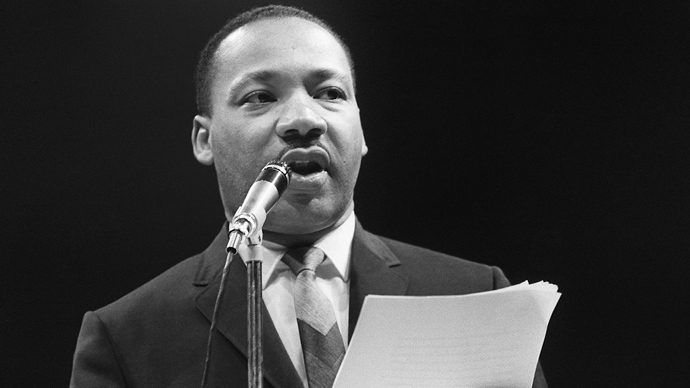 The United States Marine Corps was forced to apologize over the weekend after social media accounts administered by the armed forces branch published an off-color remark about slain civil rights leader Dr. Martin Luther King, Jr.
Ahead of the federal holiday held each January in honor of Dr. King, the Marine Corps Special Operation Command sent a message early Friday over both Twitter and Facebook in which a gunman in full military garb is seen aiming his assault weapon out of an open window.
"Don't be lone shooter #MLK weekend!" the message read. "[M]ake sure you've got security — stay safe!"
Dr. King was assassinated by a sniper on April 4, 1968, and his death sparked a series of violent riots across the US amid heightened race relations in major cities around America. James Earl Ray was ultimately convicted of murdering Dr. King, and authorities say he shot the civil rights leader through the bathroom window of a boarding house, not unlike the one in the image shared by the Marine Corps. over the internet.
As expected, the MARSOC tweet and Facebook post quickly caused uproar across all realms of social media and the armed forces deleted the offensive posts within minutes.
By Friday afternoon, the agency's Twitter account was directing followers to an apology of sorts.
"Marine leaders will frequently take the opportunity to remind their personnel to make wise decisions and look out for each other especially before a long holiday weekend," the memo began. "The intent of our recent post was to remind personnel to partner up when going out over the weekend and to look out for each other using military jargon."
"When we were alerted to the potential that this military post could be viewed as insensitive or offensive when combined with historical facts concerning Martin Luther King Jr., we immediately took it down and apologize for any untended disrespect of misperceptions," the apology continued.
Several hours later, the MARSOC account tweeted a new image — sans assassination imagery — with the caption, "No matter what your plans, have a safe weekend! Watch out for one another."
Neither of the MARSOC accounts are verified by Twitter or Facebook, but are touted as the Marine Corps' branches official social media pages. As of Monday, the biography for the MARSOC Twitter page warns, "The appearance of links or follows does not constitute endorsement."
You can share this story on social media: