No rights, no charge: US extends ex-marine's Facebook psych-ward term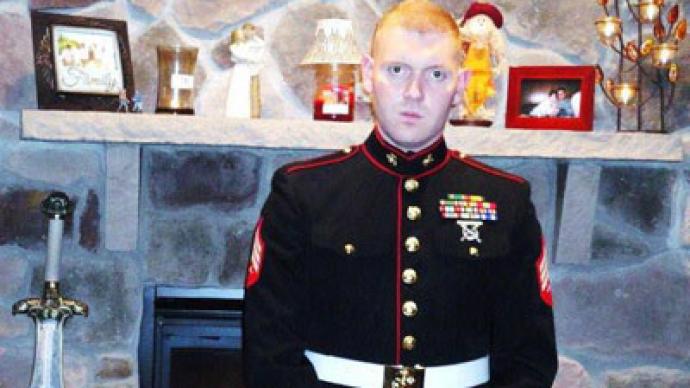 Brandon J. Raub has been ordered to stay in a mental health institution for a month without charge – and contrary to the American constitution, his defense says. His supporters are concerned any American could end up in Raub's shoes.
US police detained Raub, 26, a Marine Corps veteran, on Thursday, without presenting any charges and even without reading to Raub his Miranda rights, and took him to John Randolph Medical Center, where he is currently being held involuntarily, his defense said in a press-release. A video of his detention emerged online, triggering outrage online, including among American citizens and human rights activists."For government officials to not only arrest Brandon Raub for doing nothing more than exercising his First Amendment rights [to freedom of speech], but to actually force him to undergo psychological evaluations and detain him against his will goes against every constitutional principle this country was founded upon," said John Whitehead, executive director of the Rutherford Institute, a civil liberties group that has come to the Raub's defense.The statement on the veteran's situation posted on the Rutherford Institute website points out that Brandon Raub is no different from the majority of Americans "who use their private Facebook pages to post a variety of content, ranging from song lyrics and political hyperbole to trash-talking their neighbors, friends and government leaders." Raub's mother Cathleen Thomas told in an interview with CBS 6, a local news network, that the evaluation, as she was told by her son, "was 15 minutes long, and basically the evaluator said that he was not ready to go back into society and he needed additional psychiatric treatment."At a hearing on Monday held in the mental institution, government officials confirmed Raub's Facebook posts as the only reason for his detention, paying no attention to his comments that those online messages were wrongly interpreted.Security forces are said to be using a piece of legislation called Virginia State Code §37.2-808 Emergency custody, under which it is permitted to detain a person in a mental institution without presenting any charges against him, only upon a medic's recommendation.A Facebook group supporting Raub has been created and has over 4,500 members as of now.
Its participants call the situation "simply insane" and say that what has been happening with Raub indicates that everyone disagreeing with the government and the wars it is leading will have to keep their mouths shut.In his Facebook posts, Raub suggested the US government is involved in 9/11 attacks and called for the arrest of some government officials.The ex-Marine said "I've been very open with the things I've had to say on my wall on Facebook. It's interesting to me that the government is watching Facebook in the first place. That ought to raise some eyebrows and cause some good American citizens some concern," he added, commenting to The Daily Mail from the hospital.FBI spokeswoman in Richmond Dee Rybiski, though, denied any monitoring of Raub's account, "We received quite a few complaints about what were perceived as threatening posts," she said. "Given the circumstances with the things that have gone on in the country with some of these mass shootings, it would be horrible for law enforcement not to pay attention to complaints."Raub, however, said he does not even own a gun. The veteran served in the US Marine Corps from 2005 to 2011, and participated in the Iraq and Afghanistan campaigns.
You can share this story on social media: