'My superman': Manning's mother resigned to never seeing son again
Published time: 5 Aug, 2013 21:08
Edited time: 6 Aug, 2013 05:52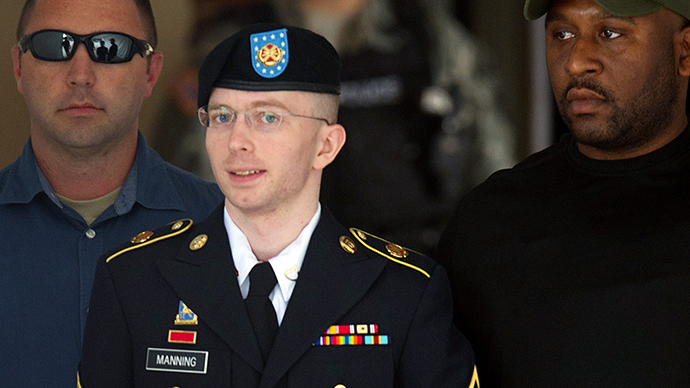 Susan Manning, the mother of the 25-year-old US army private found guilty of espionage, said she believes she may never again see her son, but urges him to "never give up hope" as he faces the prospect of life in prison.
In her first interview since the arrest of Bradley Manning, she talked about his childhood and described the nature of son, calling him her "Superman." The 59-year-old woman is divorced and said she suffers from unspecified health problems. She has not seen her son since she made her first and only trip to the US to visit him while he was imprisoned at the Marine Corps Base Quantico in Feb. 2011. 
"I know I may never see you again but I know you will be free one day. I pray it is soon. I love you Bradley and I always will," Mrs. Manning, who lives in Wales, told the Daily Mail. The army private was partially educated in Wales, but lived with his father in the US since 2005.
Mrs. Manning described his early obsession with computers and his growing anger at all of the injustices in the world.

"He just seemed to have a burning sense of wanting to right any injustice from such a young age," she said. "He'd had a very tough childhood in many ways and he'd had to grow up too quickly. His childhood was cut short by all the unhappiness he experienced as a boy."
Mrs. Manning also described the day that the military judge issued her ruling: the distraught mother said she could not bring herself to watch the verdict on TV, read it online, or listen to the radio. She closed the curtains to her bedroom and curled up in a ball, lying in the dark with her cell phone by her side. She waited for a call from her sister, 50-year-old Sharon Staples, about the verdict.
Staples also spoke to the newspaper, describing the 2011 visit she and her sister took to Quantico, where Manning was being held in solitary confinement.
"He was sitting on the other side of a glass partition and when I walked in I heard the sound of the chains round his hands and feet before I saw him," she said. "Most of the time [Susan and Bradley] sat in silence but held each other's gaze. She didn't get to hug him but was able to tell him she loved him."
With Manning facing life in prison and his mother suffering from an unspecified disease, Staples expressed doubt  that the two would be reunited.
"I don't believe Susan will ever see him again," her sister told the Daily Mail, noting that it is unlikely she will be healthy enough to fly out to the US again. She said the Manning family is "praying for leniency."
Meanwhile, a playwright who spent 10 months speaking with members of the Manning family, has also spoken out to the media to defend the army private and vouch for his character. Tim Price, who put together a play called "The Radicalization of Bradley Manning", told Wales Online that "the only crime Bradley has committed is that he cares."
"It was an act of conscience, he didn't kill anybody or hurt anybody," he said. "There was the hypocrisy of the American military lying and covering up and he felt that those actions didn't fully represent the American people as a whole and didn't stand up to the American constitution and, quite rightly, he blew the whistle."
Manning was found guilty of 17 out of 22 counts against him at his military trial in For Meade last week. He was convicted for passing more than 250,000 US diplomatic cables and several hundred battlefield logs to the anti-secrecy organization WikiLeaks. Although he was found not guilty of "aiding the enemy" – the most serious charge – he could still face up to 136 years in prison after his sentencing.