Judge rejects govt claim that Manning leaks had 'chilling effect' on foreign relations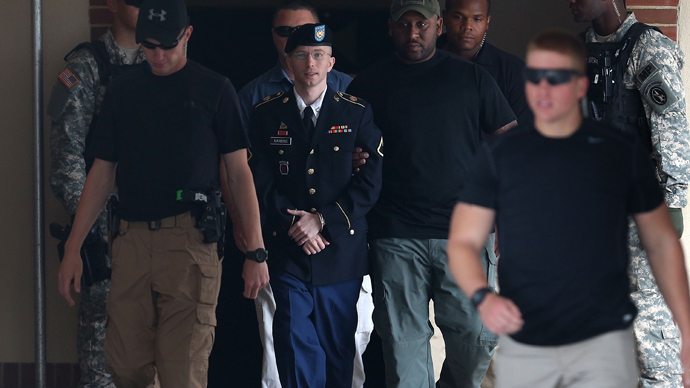 The judge presiding over Bradley Manning's sentencing hearing has rejected government testimony claiming that Manning's disclosures to WikiLeaks clearly resulted in a "chilling effect" on US foreign relations.
The military judge decided that the evidence in question would have only been admissible had the so-called "chilling effect" come directly after the information disclosed by Manning was published. 
More than 700,000 diplomatic cables were leaked by Manning, along with battlefield reports from Iraq and Afghanistan and helicopter video footage. The information was first published by WikiLeaks, with The New York Times, The Washington Post, and other media outlets soon following.
Judge Col. Denise Lind refused the prosecution's assertion that the cables, which were published over two years ago, remain a point of reluctance for foreign citizens when they are approached by US officials overseas. State Department undersecretary Patrick Kennedy testified that the information is still a hindrance to US policy making. 
Prior to Wednesday's decision, Lind granted the defense team a victory by cutting Manning's largest maximum sentence from 136 years to 90 years. She determined that some of the 20 counts that Manning had been found guilty of could be merged because they were repetitive.
In a motion from the defense, attorneys wrote that "the government takes what should be a 10-year offense and makes it a 20-year offense and unfairly increases Pfc. Manning's punitive exposure." 
Manning's lawyers released a schedule for 20 sentencing witnesses they plan to call in the next phase of the sentencing.
Leaked conversations, which were subsequently published, included US State Department employees bluntly discussing world leaders - some of whom already had fractured relationships with the US government. 
In one leaked cable, diplomatic officials were heard speaking about then-Libyan leader Muammar Gaddafi being accompanied by a "senior Ukranian nurse" described as a "voluptuous blonde" during his 2009 trip to New York for a United Nations session, The New York Times reported. During the same visit, Gaddafi was forbidden from visiting Ground Zero – the site where the World Trade Center was brought down in a terrorist attack on September 11, 2001. 
In another cable, former French President Nicolas Sarkozy was described as having a "thin-skinned and authoritarian personal style" after State Department employees witnessed him berating other French officials. Another cable said that Sarkozy was "a naked emperor."
A 2008 dispatch from the US embassy in Moscow described then-Russian President Dmitry Medvedev as "afraid" and "hesitant" compared to Prime Minister Vladimir Putin's "alpha dog" persona. Other communication remarked that Medvedev "plays Robin to Putin's Batman."
You can share this story on social media: