Military recommends court-martial for Bradley Manning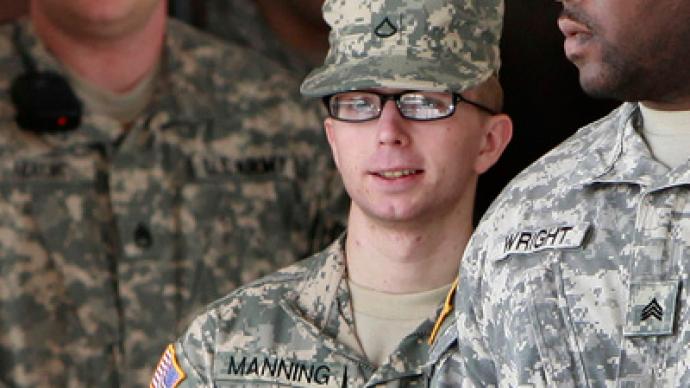 The US military officer that presided over the recent Article 32 hearing of PFC Bradley Manning has recommended that the alleged WikiLeaks contributor face a court martial for the crimes.
Manning, now 24, was charged with 22 counts stemming from his alleged involvement in Julian Assange's WikiLeaks site. A pre-trial hearing concluded last month after a week of testimonies that relied almost entirely on government-approved witnesses handpicked by prosecutors on behalf of the US military. Lt. Col. Paul Almanza, who oversaw the hearing, says that the case is fit for a full fledged court-martial.In an official statement released by the US Army on Thursday, they say that Lt. Col. Almanza feels that "reasonable grounds exist to believe that the accused committed the offences alleged.""He [Lt Col Almanza] recommended that the charges be referred to a general court martial," the Army statement reads.First, the recommendation will go to senior military officers, called a convening authority, to okay Almanza's suggestion. If given the go-ahead, Manning will be scheduled for a military tribunal over 22 counts related to his suspected participation in Wikileaks. If found guilty of the crimes, Manning stands to spend the rest of his life in prison.Since being detained by the US military nearly two years ago, PFC Manning has been held in conditions that the United Nations have expressed as potentially torturous and has caused human rights groups across the world to cry foul over the American military's so-called justice system. Stories of the cruel and humiliating detention of Manning prompted not just request from the UN's special rapporteur on torture to have access to the prisoner, but also led to 50 members of European parliament to ask for the same."PFC Manning has a right to be free from cruel and unusual punishment. People accused of crimes must not be subjected to any form of punishment before being brought to trial," the signed letter from the PMs reads. Since being locked up, Manning's lawyer has said that his client has been repeatedly stripped naked and forced into solitary confinement. After being detailed overseas, Manning was held for months at a Marine jail in Quantico, Virginia before being transferred to a similar prison in Kansas. Daniel Ellsberg, the former Defense Department employee that famously leaked the Pentagon Papers, told RT that the lengthy prison term without trial was being waged to get Manning to crack."What is torture for?" asked Ellsberg to RT's Alyona Minkovski last month. "It's really a way of getting false confessions. That's what it does. That's what it's for. And in this case, I think they want not only an association with Assange as with some journalist or whoever, they want this very special, an 'unjournalistic' kind of thing. They want to show some kind of conspiracy . . .and they want to break him down."During the Article 32 hearing last month, evidence was admitted into court that specifically linked Manning to involvement with WikiLeaks. Included in the evidence were chat logs that supposedly show a relationship between Manning and Assange as well as correspondence between the soldier and other online contacts. According to one chat log, Manning told an Internet pal, "I was the source of the 12 July 07 video from the Apache Weapons Team which killed the two journalists and injured two kids." Regardless of his involvement with WikiLeaks and the release of classified documents, many have come to the support of Manning and have branded him as a patriot fighting to put America's perverted secrets before the eyes of the American public. Ellsberg has called the soldier a "hero," and in one digital file recovered by the prosecution and believed to have been typed by Manning, the private allegedly says of one Wikileaks-released file, "This is possibly one of the more significant documents of our time, removing the fog of war and revealing the true nature of 21st century asymmetric warfare."David Coombs, the attorney for Manning, presented a case at the pre-trial hearing that the soldier's superiors were aware that Manning was emotionally unstable and that they discussed suspending him from access to classified material in the past, only to fail in acting on it. In the Article 32 hearing, Coombs was only allowed two of the near 50 defense witnesses he asked the military to allow. Following a full week of witnesses brought to the court by the prosecution, Coombs' witnesses testified for only a single morning before the hearing ended.
You can share this story on social media: