News anchors hide under studio desk as earthquake hits LA (VIDEO)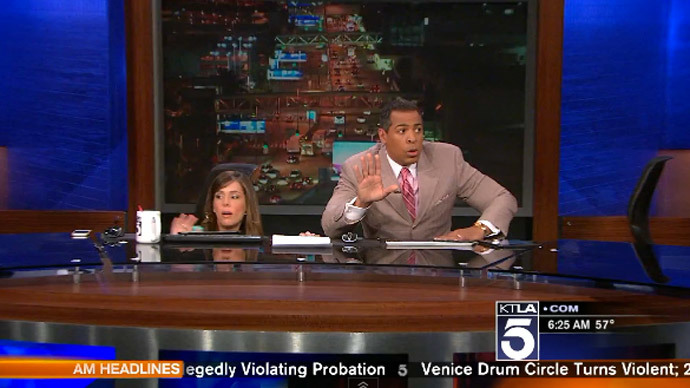 A 4.4 magnitude earthquake rocked Los Angeles, California, Monday morning, strong enough to drive two news anchors in the area into hiding under their desks during a live broadcast.
According to the United States Geological Survey (USGS), the earthquake was the most powerful one to hit the Los Angeles area since a 5.5 magnitude temblor struck in 2008. The quake was reportedly felt along a wide range of Southern California, and at least six aftershocks have been felt since it first hit around 6:25 a.m.
Despite the quake's reach – one local resident said it "felt like a bomb going off underneath" his house – the Los Angeles Times is reporting no injuries or damages just yet.
"We did our initial survey and it was felt only. No reports of any damage," said L.A. County Fire Supervisor Michael Pittman.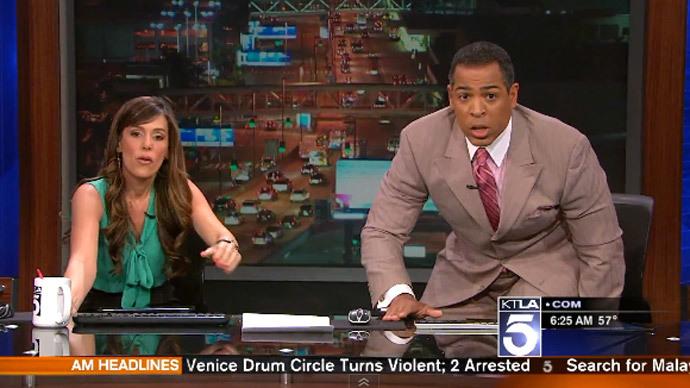 The earthquake's epicenter was near the neighborhood of Westwood, where the University of California, Los Angeles is located.
Although earthquakes below a magnitude of 5.5 aren't expected to do much damage, the event was strong enough to interrupt multiple news broadcasts as they were live on the air. In one case at a local KTLA broadcast, the anchors – Chris Schauble and Megan Henderson – hid under their news desks as a precautionary measure. Dr. Lucy jones of the USGS said the scene may have looked humorous, but that what they did was the right decision.
"I was very proud to see the KTLA anchors going under their desk during the earthquake, that was absolutely the right thing to do," she told the news outlet. "People who are laughing at them for doing it, you don't know at the beginning how big an earthquake's going to be. You might feel a little silly doing it for the small ones, but when the big one happens, it means you stay alive after the lights come crashing down."
The news station at CBS Los Angeles could also be seen visibly shaking in the background during the broadcast, though those anchors chose to stay in their seats.
For some residents, though, the earthquake was nothing they couldn't sleep past and ignore. Olga Rosas of Valley Village told the LA Times she ran outside as soon as the quake ended, only to find no one else there with her.
"I can't believe it, I go outside and all these people are still sleeping," she said with a laugh. "I guess people here are used to it."
You can share this story on social media: