California anti-gun senator charged with corruption and trafficking firearms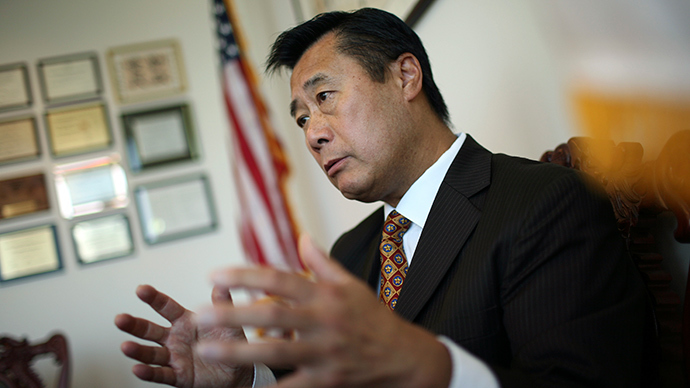 A California state senator known for his outspoken views in support of gun control was arrested on Wednesday and charged with illegally trafficking in firearms alongside multiple counts of public corruption.
In a federal corruption investigation that nabbed 26 people on charges ranging from drug smuggling to murder-for-hire, Democratic state Sen. Leland Yee was indicted on conspiracy to traffic in firearms without a license and to illegally import firearm, and six counts of corruption, which included handing out favors in exchange for substantial campaign contributions.
If convicted, Yee could face up to 20 years in prison and a $250,000 fine for each corruption charge, while the gun trafficking count could result in five years in prison and a similar fine.
According to the San Jose Mercury News, the FBI affidavit claims Yee offered to negotiate illegal firearms sales on multiple occasions in exchange for financial donations towards his campaign. He allegedly told an undercover FBI agent of his connections to firearms dealers in Asia and Russia, with CBS San Francisco reporting he knew an arms dealer who'd been shipping "cargo containers" of weapons to Muslim rebels in the Philippines.
The meeting between Yee and the undercover agent was brokered by Keith Jackson, a political consultant with ties to Raymond Chow, whom the FBI identified as the ringleader of a Chinatown gang. Chow introduced an FBI agent who'd made his way into the group to Jackson, who was the first to tell of Yee's connections to arms dealers.
"During a meeting with the undercover agent, Yee and Jackson allegedly discussed details of the specific types of weapons the undercover agent was interested in buying and importing," the U.S. Attorney's office said to Reuters.
Although the arms deal was never concluded, several meetings were conducted to discuss the arrangement and the FBI asserts it did give Yee cash as part of the process.
As noted by CBS, Yee was an outspoken advocate for gun control, sponsoring legislation that would have closed a loophole in California's ban on assault weapons – ultimately vetoed by Gov. Jerry Brown. In an interview with the station, Yee said that despite vocal opposition by gun rights supporters, he felt strongly about limiting access to guns by criminals.
"This is not an easy issue," Yee told CBS in 2012. "But I am a father, and I want our communities to be safe, and god forbid if one of these weapons fell into the wrong hands."
In addition to the gun trafficking allegation, the LA Times reports that Yee allegedly accepted a cash donation far beyond the limits of the law – and paid for by the FBI – in return for setting up a meeting between a campaign donor and state lawmakers capable of influencing medical marijuana legislation.
In another instance, Yee pursued a Senate proclamation praising the Ghee Kung Tong Freemason lodge in San Francisco, also in exchange for thousands of dollars towards his campaign, and also paid for by the FBI.
Yee was released on a $500,000 bond on Wednesday after giving up his passport. He is currently running to be the next Secretary of State, but news of his arrest has triggered calls for his resignation from the Senate by his colleagues. The Democrats have already been hit with corruption charges against two other lawmakers.
"Senator Yee should leave the Senate and leave it now," Senate President Pro Tem Darrell Steinberg (D-Sacramento) told the Mercury News.
One of Yee's rivals in the Secretary of State race, Democrat Derek Cressman, also criticized Yee.
"We are clearly beyond the point of looking at one bad apple and instead looking at a corrupt institution in the California Senate," Cressman told the LA Times. "The constant begging for campaign cash clearly has a corrosive effect on a person's soul and the only solution is to get big money out of our politics once and for all."
You can share this story on social media: