Anti-leaks legislation coming within weeks, says NSA chief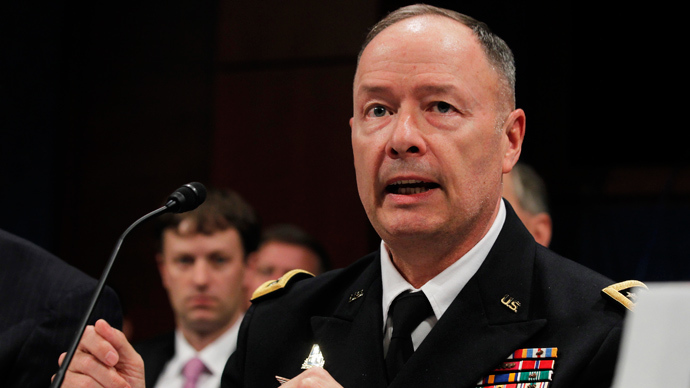 The head of the National Security Agency, General Keith Alexander, alluded to unspecified legislation on media leaks as being forthcoming, potentially within weeks, during remarks at a cybersecurity panel on Tuesday.
During an event at Georgetown University Alexander commented that leaks by former NSA contractor by Edward Snowden, which have subsequently been published by media outlets around the world, had compromised the country's ability to secure against cybersecurity threats.
Alexander also alluded to making "headway" on forthcoming policy by the government encompassing such media leaks, which has caught most by surprise.
"We've got to handle media leaks first. I think we are going to make headway over the next few weeks on media leaks. I am an optimist. I think if we make the right steps on the media leaks legislation, then cyber legislation will be a lot easier," said Alexander.
According to The Guardian, which cited contacts at the Project on Government Oversight and the Federation of American Scientists, the specific legislation to which the NSA head referred to is unclear.
Alexander has been vocal in the past about clamping down on media leaks related to US intelligence. In a December interview with a Defense Department publication, the head of the NSA suggested that the US government find a way to end the divulging of internal information.
"We ought to come up with a way of stopping it. I don't know how to do that. That's more of the courts and the policymakers but, from my perspective, it's wrong to allow this to go on," the NSA director declared.
On Tuesday, Alexander doubled down on his belief that Snowden's intelligence leaks to the media, most notably former Guardian journalist Glenn Greenwald, have been detrimental to the US.
"My personal opinion: these leaks have caused grave, significant and irreversible damage to our nation and to our allies. It will take us years to recover," said Alexander.
During the same panel the outgoing NSA head, due to retire within weeks, slammed the perceived inability by journalists to withhold secrets which would prove damaging to the country.
"It's interesting: journalists have no standing when it comes to national security issues. They don't know how to weigh the fact of what they're giving out and saying, is it in the nation's interest to divulge this," Alexander said.
The intelligence official's criticism of journalistic scruples came after being prompted on the detention of Greenwald's partner, David Miranda, who was detained for nine hours while in transit through Heathrow airport in the UK last August.
As for Miranda's detention itself, which was the subject of heated debate and a legal challenge which failed last month, Alexander seemed satisfied at the UK's invocation of its Terrorism Act, which authorities attempted to use to extract materials provided by Snowden which they suspected Miranda of transporting.
The lack of transparency over whatever "media leaks" may be on the way means that their substance is the subject of speculation. Potentially, as Firedoglake reports, the White House may push for legislation resembling previous attempts to clamp down on leaks, such as a set of measures proposed in 2012 by the Senate Select Committee on Intelligence.
That previous legislation, which was to be carried as part of an intelligence authorization bill and ultimately defeated, would have required the Director of National Intelligence to enact stringent control on contact by intelligence agencies personnel to members of the media, along with greater disciplinary action against anyone making "unauthorized disclosures."
You can share this story on social media: