LAX employee arrested in dry ice bombs case
Published time: 16 Oct, 2013 17:51
Edited time: 16 Oct, 2013 18:02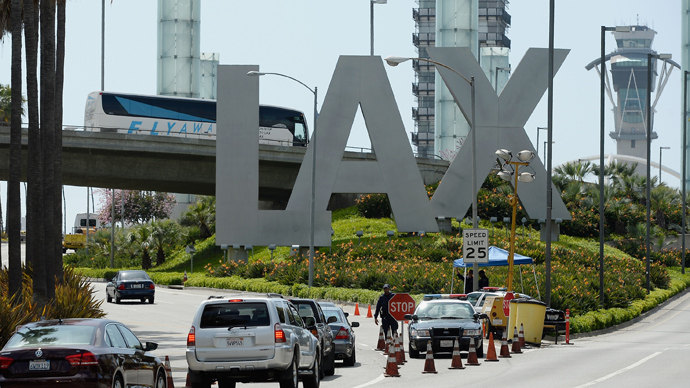 A baggage handler working at Los Angeles International Airport has been arrested in connection with two dry ice explosions earlier this week.
Following a police investigation, 28-year-old Servisair employee Dicarlo Bennett was detained by the Los Angeles Police Department and charged with possession of a destructive device near an aircraft. He was arrested in Paramount, CA on Tuesday.
Police suspect Bennett is connected with the explosions that occurred both Sunday and Monday, but so far have only charged him for one. He is being held on a $1 million bond.
"Police can confirm the arrest of a single suspect related to the two dry-ice incidents at Los Angeles International Airport (LAX)," Los Angeles Airport Police Chief Patrick Gannon said Tuesday night to CNN.
"We want to reassure the traveling public, visitors and employees that LAX is safe and secure."
Citing a "law enforcement official briefed on the investigation," AP is reporting that Bennett removed the dry ice from a plane and used it to make explosive devices that were placed in an employee restroom Sunday and near a plane in the international terminal on Monday.
Due to the fact that none of the three dry ice bombs were placed in public areas or aimed at people, investigators did not suspect a connection to terrorism. However, they have yet to release any information on a possible motive.
"Whether you think this is a harmless prank or a way to disrupt operations at the airport, it won't matter," LAPD Chief Charlie Beck said to the Los Angeles Times. "You will go to jail." 
No injuries were reported in either explosion, and only a few flights were delayed on Sunday, but the incident did raise concern over the airport's security measures.
Originally, it was reported that four dry ice bombs had been found at LAX, but new information has cut the number down to three. Of the two explosions, one occurred in an employee restroom Sunday at 7pm local time, while the other happened on the tarmac near a plane at 8:30pm on Monday. A third dry ice bomb was found nearby, while a suspected fourth device was later deemed to be trash.