Lawlessness imported from America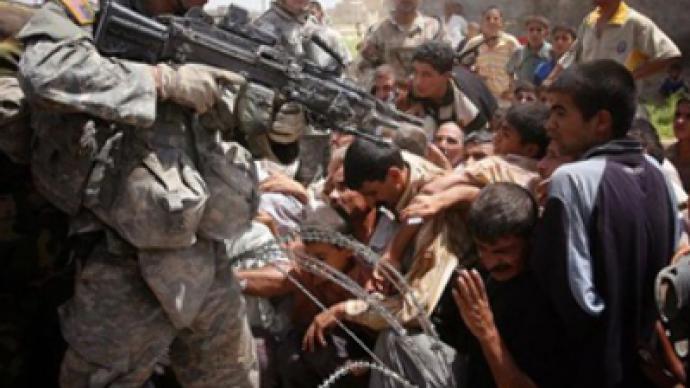 Iraq and Afghanistan are generally painted as countries that are teeming with lawlessness, but American cases of theft, rape and murder reveal that some of the unsavory elements in the Middle East are imported.
Prisoner abuse has cast a dark shadow over America's reputation and claims to being the model of democracy. The US has encouraged people to believe that those were the singular acts of a few, but that scandal is far from being the only dirty deed committed by US citizens overseas.
Some, such as Lee William Dubois, have attempted to convert their service in the Middle East into get-rich-quick schemes.
Dubois, a former Department of Defense contractor, is the latest to be sentenced for stealing over 10 million gallons of fuel from the Victory Bulk Fuel Point (VBFP) in Camp Liberty, Iraq.
"The VBFP supplies aviation and diesel fuel to both military units and US government contractors," according the US Department of Justice (DOJ). "Dubois admitted that he and his co-conspirators employed approximately 10 individuals to serve as drivers and escorts of trucks containing the stolen fuel," which was later sold on the black market.
One of those co-conspirators was Robert Young, a 56-year-old former US Army captain. Young, who received approximately $1 million in personal profits from the theft, pled guilty in July and is awaiting his sentence.
This scheme that involved false employment verification, fake fuel authorizations, illegal use of government-issued access cards and supply losses that exceeded $39 million is not unique. Others have also developed and executed elaborate criminal plans for profit.
In another case, a former Army lieutenant colonel, who served as a senior accountant, stole and laundered large sums of money in cahoots with her stateside family members. Seven people have been convicted in the case so far.
"By abusing their positions and those of family members, these defendants chose personal benefit over their duty to their fellow citizens and soldiers," said Assistant Attorney General Lanny Breuer.
One benefit for that lieutenant colonel was a deck for her home, but not all crimes are committed for financial gain. And not all heartless murders are committed by terrorists. Criminal actions, such as those of Steven Green, are to fulfill dark, inhuman desires.
Green, a former US Army soldier, is awaiting his sentence for convictions that include aggravated sexual abuse, premeditated murder and use of a firearm during a violent crime.
Green and some fellow soldiers discussed raping and killing Iraqis, says a DOJ press release. Then, the discussions went further when Green and his accomplices decided to change into black clothing.
The group forced their way into the Al-Janabi family's home. "Evidence presented at trial proved that Green then took the mother, father and six-year-old into a bedroom where he shot and killed them all. In the living room, Green and other soldiers raped the 14-year-old daughter and then Green repeatedly shot her in the face and set her body on fire," the release said.
The US would like to portray its criminal elements as only a fraction of the total American presence, but, it's a bigger fraction than the public is being led to believe.
For more than six months, the DOJ has consistently had activity on cases regarding American crimes stemming from Iraq and Afghanistan. In August, four people pleaded guilty to financial crimes, one person was convicted of theft and two were sentenced for theft.
The small number and the relatively insignificant nature of the cases handled paint a false picture. The US tends to keep its record clean by keeping crimes off the record.
In a 2008 Senate hearing, Senator Bill Nelson blasted the government for avoiding sexual assault cases. The Defense Department's inspector general said it has investigated 742 sexual assault cases. There was one conviction on record.
A UN Human Rights Council report found the US generally takes the same approach to the loss of life, showing a lack of will to track, investigate and punish.
"DoD [Department of Defense] officials confirmed to me that the military does not systematically compile statistics on civilian causalities in its operations," Special Rapporteur Philip Alston wrote, adding, "The purported reason is that 'body counts' are not relevant to evaluating the effectiveness or legality of military operations."
Michelle Smith for RT
You can share this story on social media: