Panama releases ex-CIA station chief in Milan wanted by Italy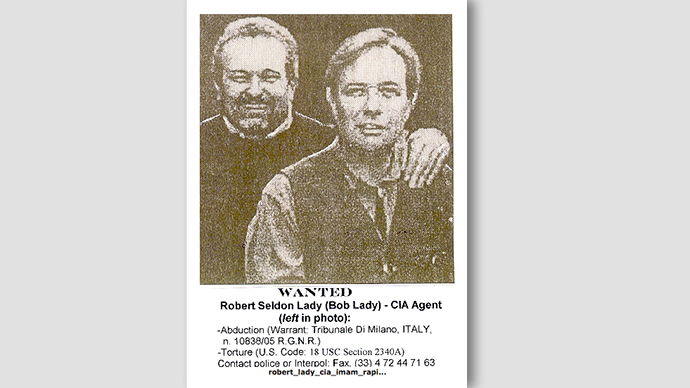 A high-ranking CIA official that eluded Italian authorities for years despite being found guilty of kidnapping has returned to the United States just one day after being discovered by officials in Panama.
Now the former Central Intelligence Agency officer that's been ordered to spend nine years in an Italian prison for his role in the 2003 kidnapping of Muslim cleric Hassan Mustafa Osama Nasr may escape court-appointed sentencing. The Washington Post reported early Friday that Robert Seldon Lady, 59, is on his way to the US where he will likely avoid extradition to Italy.
"It's our understanding that he's on a plane en route to the United States right now," a senior official in the Obama administration told the Post on Friday.
An Italian court sentenced Lady earlier this year for his role in a 2003 kidnapping for which he was convicted of in absentia in 2009. A court concluded that Lady assisted in the "extraordinary rendition" of Nasr, an Egyptian man wanted by the US over alleged ties to terrorists, while station chief of the CIA's Milan outpost.
In the hands of the US, Nasr was reportedly tortured at length. Italy charged 23 Americans, mostly CIA agents, for their involvement in the case, but had been unable to locate Lady until he was detained Thursday in Panama.
Lady "has been arrested in Panama," that country's ambassador in Washington told the Post originally, adding, "Procedures for this kind of international detentions are being followed by Panama at this moment."
Italy's Gazzetta del Sud reported that Lady had been handed over to Interpol after he was arrested while trying to cross into Costa Rica on Wednesday. Even then, though, Italian solicitor Ferdinando Pomarici told the paper he was "sure" the US would prevent Lady from being extradited.
Amnesty International issued a statement on Friday asking Panama to extradite Lady to Italy, a plea which apparently was too little too late to influence American authorities.
"Amnesty International welcomes the arrest of Robert Seldon Lady and calls on the Panamanian authorities to extradite him to Italy," the human rights group wrote. "By his own admission, he participated in a kidnapping operation that resulted in a man being tortured. Robert Seldon Lady evaded justice by leaving Italy before his trial - this time he should have to answer the charges against him in Italy in person."
On his part, Lady has long insisted he's innocent, claiming his actions came about because CIA superiors ordered him to conduct in such a manner that made him a criminal in Italy.
"When you work in intelligence, you do things in the country in which you work that are not legal," he told GQ Magazine in an interview while on the run.