Kerry's characterization of Syrian opposition contradicts intel reports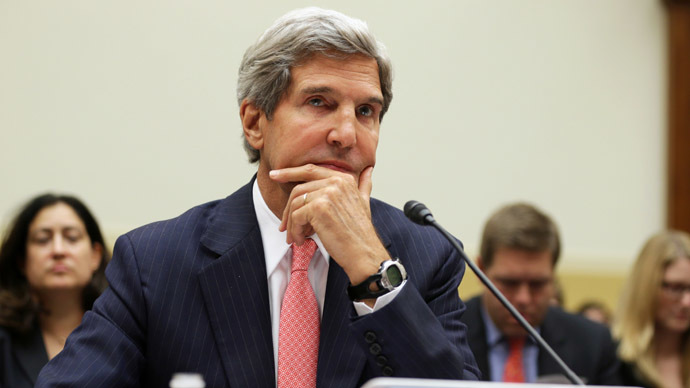 Secretary of State John Kerry told the United States Congress this week that rebel fighters in Syria are becoming more moderate amid allegations that extremist groups are infiltrating the opposition. New reports suggest quite the contrary, however.
Kerry is among the most determined officials in US President Barack Obama's administration to ask for a strike against Syrian leader Bashar al-Assad as of late, but critics of American intervention say arming the rebels overseas may hurt the goals being tossed around in Washington. Of particular concern is how extremist groups who are unfriendly to the US but also fighting against Assad would benefit from American assistance.
On Tuesday this week, Kerry told the Senate Foreign Relations Committee that the opposition "has increasingly become more defined by its moderation, more defined by the breadth of its membership and more defined by its adherence to some, you know, democratic process and to an all-inclusive, minority-protecting constitution."
"Our goal is to help the opposition," Kerry said, later adding, "and the opposition is getting stronger by the day."
But despite insistence from the country's top diplomat, intelligence reports analyzed in recent days have suggested that extremist groups fighting against Assad are gaining power.
According to a report published on Thursday by Reuters journalists Mark Hosenball and Phil Stewart, radical Islamists attempting to oust Assad pale in number to more moderate fighters but "are better organized, armed and trained."
Among those extremists, the reporters noted, are the al-Qaeda aligned al-Nusra Front. At this rate, they reported, that group may gain even more influence among the opposition.
"Left unchecked, I'm very concerned that the most radical elements will take over larger segments" among rebel fighters, David Shedd, deputy director of the Pentagon's Defense Intelligence Agency, told Reuters.
According to Shedd, the conflict in Syria could continue at this rate for upwards of several years and may very well pave the way for extremist fighters to influence the more moderate rebel groups that Kerry said are growing in number.
Responding to Reuters' request for comment, a spokesperson at the Department of State said that the secretary's remarks ring true to the administration's official stance, and supported Kerry's claim that a more democratized army is on the rise by saying the opposition has "taken steps over the past months to coalesce, including electing leaders."
Outside of the administration, however, others are also unsure with regards to Kerry's estimate. Speaking to Voice of America this week, Dr. Jonathan Schanzer of the DC-based think tank The Foundation for Defense of Democracies said he couldn't get behind Kerry's remarks.
"The Nusra Front and the Islamic State, along with a range of other Salafi factions, remain a serious problem," Schanzer said. "The jihadi factions are still among the most effective fighting forces in the Syrian opposition."
Ahmad Majidyar, a senior research associate at DC's American Enterprise Institute, told VOA he doesn't exactly agree either with the State Department either.
"Secretary Kerry provided no information to back up his statement about the move to moderation, but all indications on the ground contradict his assertion," Majidyar said.
"The Syrian uprising initially began by ordinary, pro-Democracy citizens seeking an end to dictatorship," Majidyar added. "Two years now into the civil war, however, al-Qaeda-affiliated groups have emerged as the most powerful fighting force battling the Syrian government."
"At present," he continued, "the most adequately equipped and well-trained insurgent groups in Syria are two al-Qaeda affiliates. While these radical groups have benefited from an influx of foreign fighters joining their ranks and increasing funding from Sunni fundamentalists in the Gulf States, the genuine Syrian opposition has grown weaker and more fractured as a result of the international community's failure to support and unite them."
That isn't to say Kerry is on his own, however. In the Wall Street Journal this week, war analyst Elizabeth O'Bagy wrote that the composition of rebel fighters in the opposition groups had "improved significantly" in recent time and has "demonstrated a willingness to submit to civilian authority, working closely with local administrative councils."
O'Bagy has been analyzing the Syrian conflict for some time, and earlier this year said things were much worse. When the New York Times caught up with her in April, she argued that the make-up of anti-Assad fighters was far from homogenous.
"When the armed rebellion began, defectors from the government's staunchly secular army formed the vanguard. The rebel movement has since grown to include fighters with a wide range of views, including Qaeda-aligned jihadis seeking to establish an Islamic emirate, political Islamists inspired by the Muslim Brotherhood and others who want an Islamic-influenced legal code like that found in many Arab states," she said.
"My sense is that there are no seculars," O'Bagy told the Times more than four months ago.
Now as the US moves towards launching a strike, O'Bagy is seeing at least a little bit of more structure among the opposition. To the Journal, she said, "While traveling with some of these Free Syrian Army battalions, I've watched them defend Alawi and Christian villages from government forces and extremist groups."
Meanwhile, the Associated Press reported this week that al-Qaeda linked rebels attacked a regime-held Christian village on Wednesday. According to the AP, a Nusra Front rebel blew himself up near a regime checkpoint on Wednesday by the predominately Christian village of Maaloula, after which other rebels stormed the town and opened fire.
Commenting on Kerry's assessment of the opposition group on Thursday, Russian President Vladimir Putin said, "he is lying and he knows that he is lying."
"This is certainly not the first time we've seen a visceral response from President Putin," an unnamed State Department official responded to Fox News. "Needless to say, the secretary of state testified truthfully and accurately to the Congress."

On Friday, the US ambassador to the United Nations, Samantha Power, said she sees no reason to be optimistic about Russia's stance on Syria after Putin's remarks.

The results of a Washington Post/ABC News poll released on Wednesday concluded that 27 percent of Americans support supplying Syrian rebels with arms; 70 percent oppose equipping the opposition with weaponry.