Jury orders pharma companies to pay $9 bln in diabetes drug case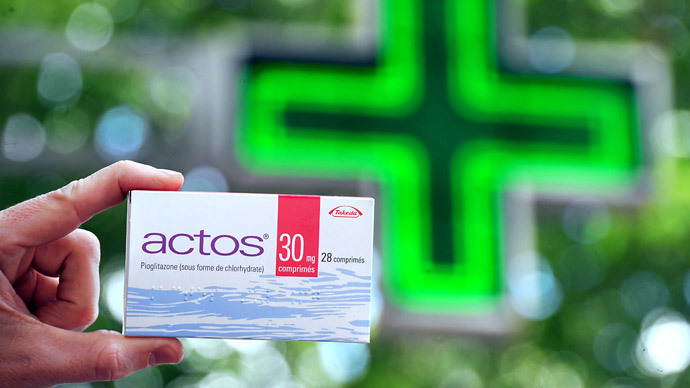 Takeda Pharmaceutical Co. and Eli Lilly & Co. have been ordered to pay $9 billion total in punitive damages after a US jury found the two companies did not adequately inform people of the cancer risks connected to their Actos diabetes drug.
The verdict calls for Japan-based Takeda to shoulder the brunt of the damages and pay $6 billion, while Eli Lilly, Takeda's co-defendant and US distributor, was ordered to pay $3 billion.
According to Reuters, plaintiffs' lawyer Mark Lanier said the verdict was delivered to "stunned silence" in the courtroom, as it topped even the $5 billion in damages levied against Exxon Mobile for the 1989 Exxon Valdez oil spill in Alaska.
Lanier represented a former Actos user named Terrence Allen, who had sued Takeda alleging that its drug caused his bladder cancer. He was also awarded approximately $1.5 million in compensatory damages.
"I hope Takeda executives in Japan heard what this jury had to say loudly and clearly," Lanier told Bloomberg News after the verdict was announced.
Both Takeda and Eli Lilly disagreed with the verdict and said they plan to contest the imposed fines.
"We intend to vigorously challenge this outcome through all available legal means, including possible post-trial motions and an appeal," Takeda general counsel Kenneth Greisman said to Reuters in a statement.
"While we have empathy for the plaintiff, we believe the evidence did not support claims that Actos caused his bladder cancer," Eli Lilly spokeswoman Candace Johnson added to Bloomberg.
The case revolved primarily around allegations that Takeda executives knew about the possible cancer risks associated with its drug, not only declining to properly inform regulators of the dangers but also misleading them in order to preserve sales. At peak sales levels in 2011, Actos accounted for more than a quarter of the company's revenue.
According to Bloomberg, Lanier argued in court that Takeda officials purposely destroyed important documents from 46 employees – including high-level executives – related to the development and marketing of Actos.
Since these documents were either destroyed or lost, US District Judge Rebecca Doherty told jurors they could reason that such news helped bolster the allegation that the company hid the repercussions of its drug. Takeda did not put a warning label describing Actos' cancer risk until 2011, seven years after the connection to bladder cancer was shown to be strong.
"The breadth of Takeda leadership whose files have been lost, deleted or destroyed is, in and of itself, disturbing," she wrote in January.
Whether or not the verdict of $9 billion in damages survives, however, is another question. Previously, the Supreme Court ruled that the punitive damages – meant to prevent companies from behaving similarly in other cases – should be at least somewhat in line with compensatory damages. In 2008, it ruled the Exxon Mobile verdict to be "excessive," lowering the fine to $500 million.
Speaking with Reuters, Lanier acknowledged the same could happen with Takeda.
"Nobody has gone out and bought a new home," he said. "This is a conservative judge and a conservative court and she's very 'balls and strikes'. We're not under any grand illusion."
Last year, another verdict against Takeda – this time to the tune of $6.5 million – was tossed out by a judge on the grounds that it was not adequately proven that Actos caused cancer. Germany and France have banned the drug, but other countries have kept it on the market, saying the benefits could outweigh the risks for some patients.
Still, Florida lawyer Neil Overholtz told Bloomberg he believes the jury's announcement is a positive step forward in the current landscape.
"This verdict sends a message that you must put the health and safety of Americans ahead of profits," he said, "or American juries will have the courage and resolve to hold global corporations accountable."