British tourists imprisoned and deported from US… for Twitter jokes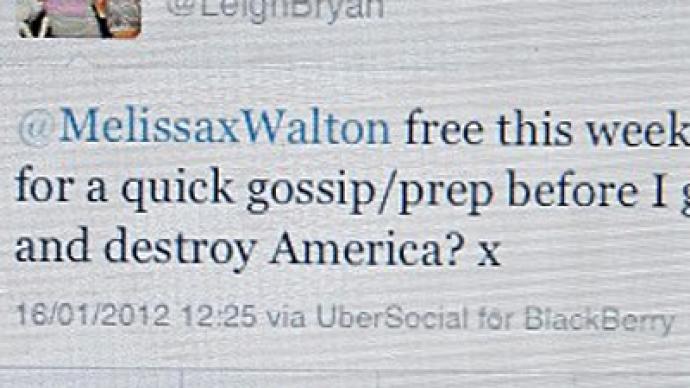 If the decomposed corpse of Marilyn Monroe is robbed from the grave, the terrorists have won.
Authorities in America take threats seriously, and when it comes to Hollywood royalty nearly 50 years past their expiration date, the feds don't kid around. So when a would-be British tourist joked about digging up the body of famed Hollywood starlet Marilyn Monroe, US officials, to say the least, were not amused. The attempts at humor were posted on the Twitter account of Leigh Van Bryan, 26, which somehow managed to make its way to the US Department of Homeland Security at the same time the British resident's plane arrived at Los Angeles International Airport. When Van Bryan and his 24-year-old traveling companion arrived at LAX last week, feds were waiting for them. It turns out that they didn't think the whole grave robbing joke was that funny.It was two tweets that had DHS riled up. The first was one in which Van Bryan joked that he was going to "destroy" America, which he explained to authorities was British slang for partying. The second message, perhaps a bit more straightforward, said that the two had plans to hang out on Hollywood Boulevard, an event that would be topped off by "diggin' Marilyn Monroe up!"That tweet, says Van Bryan, was just a joke.The humor was lost on Homeland Security, however, and when Van Bryan and his pal Emily Bunting tried to leave LAX, they were handcuffed. Even after telling authorities that the Marilyn tweet was only a joke — and that the "destroy" quip was simply lost in translation — they had their passports confiscated. "They asked why we wanted to destroy America and we tried to explain it meant to get trashed and party," Bunting tells the Daily Mail. "It's just so ridiculous it's almost funny but at the time it was really scary," Leigh Van Bryan adds. "The Homeland Security agents were treating me like some kind of terrorist."After the questioning, both were handcuffed and transported to a Los Angeles jail, where they were kept in separate cells for 12 hours alongside detained alleged drug dealers. When they were freed, they were sent back to LAX and forced to fly home for their questionable tweets. Not before the feds searched their luggage for a shovel and spade though, says Bunting."I almost burst out laughing when they asked me if I was going to be Leigh's lookout while he dug up Marilyn Monroe," she adds. Not only did Homeland Security not check their British slang, but they didn't do all their research either. Both detainees say that the Marilyn Monroe joke was a reference to the American cartoon Family Guy. And, for the record, they would have needed a crowbar as well — Marilyn is entombed in a stone crypt at a LA cemetery.
You can share this story on social media: