Japanese tsunami debris will reach US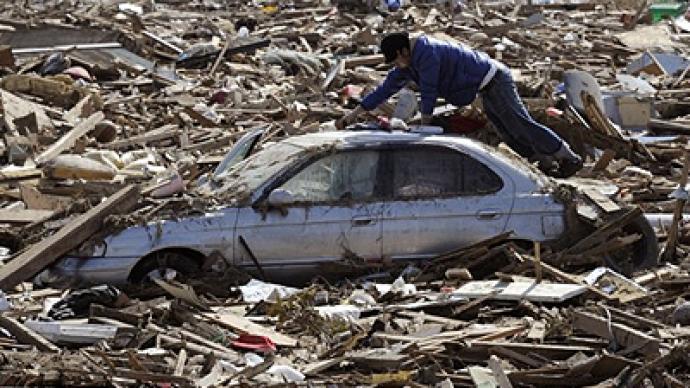 From the subsequent tsunami to the radiation leakage at Fukushima, the aftermath of last month's earthquake in Japan has been beyond extensive. Now scientists say that the residual repercussions of the disaster will wash all the way to US shores.
Researchers at the Univesity of Hawaii announced this week that debris from the devastation—including ravaged cars, homes, boats and even bodies—are bound to hit the coast of the US in a matter of time. Jan Hafner of the International Pacific Research Center on Honolulu's campus told OurAmazingPlanet that the first wave of debris should hit Hawaii's Midway Island in roughly a year, and adds that remnants from the earthquake's impact could hit the West Coast of the US in around three years' time. These estimates are based on a model that Hafner and his colleagues recently developed and just now released the results of.Hafner supposes that the debris could reach nearly the entirety of the western shore of the States, stretching from Baja, California all the way to Alaska.That is, however, until it returns back to Hawaii."The main cloud of the debris would turn to the southwest and end up in the Pacific Garbage Patch, and within five years it will be coming out of the garbage patch once in a while and hit Hawaii over and over and over," says Hafner.The Garbage Patch in question is a not-so-scientific name applied to a region in the ocean that contains plastics, sludge and other debris trapped by North Pacific Gyre currents. The National Science Foundation estimates that the size of the Patch could be twice the size of Texas.The second wave of debris aimed at Hawaii, says Hafner, could be much more powerful than the initial wallop.Hafner notes that it is hard to tell what exactly the waves of debris will carry or whether the remnants will be toxic and to what degree. He adds that, however, since some of the debris could be quite large, they might be not-so easily broken up by the likes of erosion and marine organisms, and thus have the potential to carry radioactivity with it all the way to Hawaii and beyond. "But we do not know for sure if that is the case," says Hafner.
You can share this story on social media: