James Franco is working in porn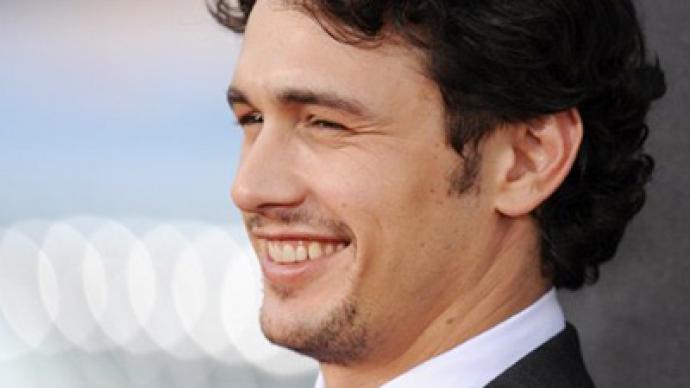 James Franco has done it all. The actor-turned-director has co-hosted the Academy Awards, received rave reviews for his portrayal of James Dean and earned a Golden Globe by the age of 23. Naturally, of course, it's time for him to move on to porn.
Franco revealed this week that he will be working on a flick a little filthier than what his fans are used to. His newest project is a documentary about the pornography industry.Sitting down with late night talk show host Conan O'Brien this week, Franco disclosed that his initial foray into pornography didn't turn out as well as he had hoped."When I was young I got a video camera and my girlfriend and I decided to film ourselves," says Franco. "[We] watched it back and said: 'Yeah, well, let's never watch that again.'" Even if his own tape ended up "boring," as he puts it, that didn't snuff Franco's soft spot for smut. "I actually am very interested in pornography… I watch it, who doesn't?" Franco asked, before revealing that he is spearheading a documentary that is now in the works.Franco went on to discuss a production facility in San Francisco, California that blew him away. "They do everything in house, they build their props in house. It's an incredible place," Franco says. So incredible, in fact that the superstar has been inspired to show it to the world.While the actor refrained from mentioning the studio by name, an actress working for Kink.com tweeted in June that Franco was on locate to shoot a movie. Alison Voss, a project manager at Kink, has confirmed to the Huffington Post that her company and the Spider-Man star are indeed at work on an endeavor."Kink is very excited about the project," Voss says to HuffPo. "The details are still being ironed out, but we're really looking forward to it. Our mission is to demystify sexuality and fetish; we're very transparent about our practices, policies and commitment to ethical production…James Franco obviously has a huge reach, and we believe that the more people that see this, the more people will open their minds to sexual minorities."Transparent isn't the first thing you might think of when you log onto Kink, but Voss isn't lying. Founded by a PhD student in 1997, the company operates out of the old State Armory and Arsenal in San Francisco, a building on the National Register of Historic Places, which the porn producers purchased for nearly $15 million back in 2006. It's there that the company works on titles for its umbrella operations, which includes the websites "Diving Bitches," "Hogtied," "Men In Pain," "Public Disgrace," "Bound Gang Bangs" and, of course, "Everything Butt."Kink.com also owns the highly-sought after URL of Pissing.com and had to battle with the US Patent Office in 2007 to legally have "fuckingmachines" trademarked. "Those people in pornos, they are great performers; they're not just doing it, they're selling it to an audience," Franco tells Conan. "They're performing so that an audience can get turned on by that kind of thing."Those kind of things are found in titled such as "Pile Driver with Robots," "Brand New Amateur is a Surprise Squirter," "Punished Butt Sluts" and "Hardcore Anal Sex and Pain!"Franco's own resume includes work in the films "Mean People Suck," "Some Body," "The Great Raid," "Knocked Up," "In the Valley of Elah," "Finishing the Game," "Good Time Max" and "Date Night". Surprisingly, none of those titles are rated-X features.
You can share this story on social media: