US moves Marines to Italy as situation in Libya becomes tense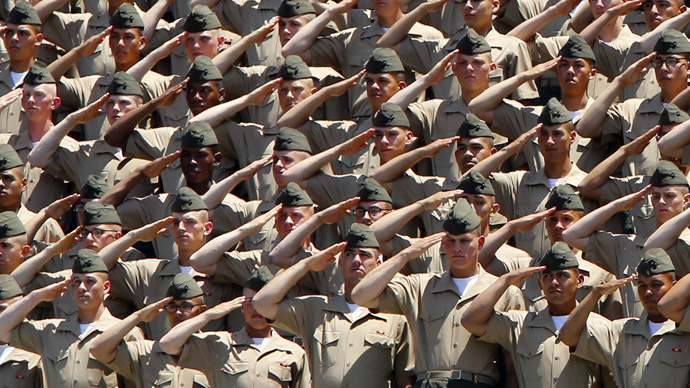 Two hundred United States Marines are being mobilized from a base in Spain to an Italian site neighboring Libya where an Army raid over the weekend resulted in the capture of suspected Al-Qaeda terrorist, Abu Anas al-Libi.
CNN reported early Tuesday that a US military official confirmed the repositioning of 200 heavily armed Marines to the naval base at Sigonella, Italy, a Sicilian fort south of Catania that sits on the opposite side of the Mediterranean from Libya.

According to the military source, the US Department of State aided in the troop movement and considers the maneuver "a prudent measure" following Saturday's raid in Tripoli. There is now the potential for a security crisis to arise at the US Embassy in Libya, CNN reported, should tensions worsen as a result of the capture.

Al-Libi, 49, was picked up from his Tripoli home on Saturday and is currently being held on the USS San Antonio in international waters. He was charged previously with the 1998 bombings that targeted US embassies in Tanzania in Kenya, which resulted in the deaths of 224 people, including a dozen Americans.

US Secretary of State John Kerry responded this week to the capture, by calling al-Libi a "legal and appropriate target" for the US, and senior officials have linked him with high-ranking members of the al-Qaeda organization formerly led by Osama bin Laden.

"I hope the perception is in the world that people who commit acts of terror and who have been appropriately indicted by courts of law, by the legal process, will know that the United States of America is going to do anything in its power that is legal and appropriate in order to enforce the law and to protect our security," added Kerry.

But LANA, the official news agency of Libya, reported that government officials are referring to Saturday's incident as an abduction, and the US ambassador has been summoned to speak with authorities regarding the raid.

"Our relationship with the USA is important, and we care about that, but we care too about our citizens, which is our duty," Libya Prime Minister Ali Zeidan told reporters on Tuesday.

Libyan groups are now protesting the raid and the subsequent capture of al-Libi, and are reportedly seeking to avenge the event. According to Reuters, a Facebook page called "Benghazi is Protected by its People" has instructed Libyans to kidnap US citizens if possible and close off the entrances and exits to Tripoli.

Russia, which was recently forced to evacuate the staff of its embassy in Tripoli due to security concerns, criticized the American raid.
"We believe that this is not the way you handle international relations, it's not the way you fight criminals, even before you prove that they are criminals, before they can testify to any court of law," Russian Foreign Minister Sergey Lavrov said in an interview with RT.
Last September, the storming of a US consulate building in Benghazi, Libya ended in the death of four Americans, including Ambassador Chris Stevens. A State Department travel warning last updated in June warns US citizens against traveling to Libya, citing a still unpredictable security situation.

While a surge of Marines has been deployed across the Mediterranean from Libya in the event of another incident targeting American facilities, military, intelligence and Department of Justice officials have reportedly been sent to the USS San Antonio to interrogate al-Libi while he remains detained in international waters.

"As a general rule, the government will always seek to elicit all the actionable intelligence and information we can from terrorist suspects taken into our custody," National Security Council spokeswoman Caitlin Hayden told the Associated Press. "Determining when and where to prosecute individuals is a traditional and important executive branch authority that has long been exercised on a case-by-case basis, taking into account all relevant factors -- such decisions are not made arbitrarily."
You can share this story on social media: