Did the US just break the secret Israeli-Azerbaijani alliance against Iran?
Published time: 30 Mar, 2012 20:47
Edited time: 20 Apr, 2012 13:29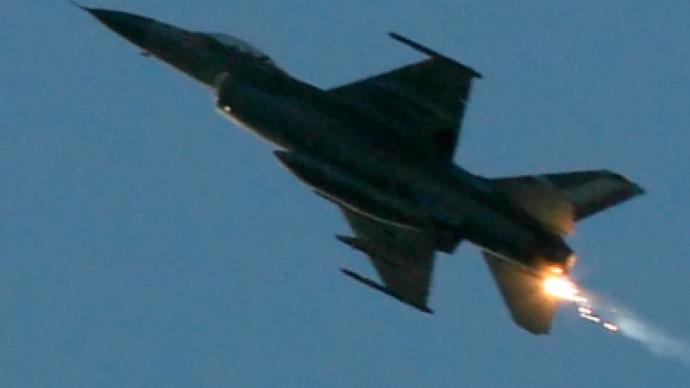 According to an alleged leak, Israel is secretly staging an airstrike on Iran in neighboring Azerbaijan.
Israeli Prime Minister Benjamin Netanyahu has been salivating over the thought of bombing Iranian nuclear facilities for some time now, and an anonymous senior US diplomat along with military intelligence officials alleged that "Israel has recently been granted access to airbases on Iran's northern border."
"The Israelis have bought an airfield and the airfield is called Azerbaijan," said a senior administration official.
The information which was disclosed in Foreign Policy magazine stated that the Israeli-Azerbaijani alliance is deeper than both parties want others to believe.
According to the article, in 2009 a memo released by WikiLeaks quoted Azerbaijani President Ilham Aliyev labeling the country's relationship with Israel as an iceberg where "nine-tenths of it is below the surface."
For years Israel and Azerbaijan have established an economic relationship. Israel buys oil from Azerbaijan and Azerbaijan purchases military equipment from Israel.
Despite the Israeli-Azerbaijani relationship, Azerbaijan officials have denied that such an attack would ever be launched from Azerbaijani soil.
"The Republic of Azerbaijan, like always in the past, will never permit any country to take advantage of its land, or air, against the Islamic Republic of Iran, which we consider our brother and friend country," said Azerbaijan's defense minister during a visit to Tehran.

Nevertheless the Israeli-Azerbaijani cooperation allegedly caused so much concern in the White House that unnamed officials were given permission to leak the information on possible airstrikes on Iran from the South-Caucasus country. The intention of the Obama administration was to make the plans public to disrupt any secret agreements between the two governments that would leave the US in the dark.

These plans would also grant Israel much needed airfields for a strike on Iran .

In a study lead by Retired Air Force Col. Sam Gardiner, for a think-tank affiliated with the Swedish Ministry of Defense played out the possible scenarios of an Israeli lead attack on Iran.
"It's not weight that's a problem," said Gardiner in the AFP article.
The problem is the number "of weapons that are mounted on each aircraft," Gardiner added.
In other words, the lighter the payload the more distance it can travel; the heavier the payload the distance will suffer.
He reiterated restricting the distance travel will increase firepower and will boost the likelihood of an effective strike.
That's where Azerbaijan steps into the picture.
Bases in the country would be supposedly used for landing and refueling after the strike has been implemented.
Israel has received mix messages from Washington about their plans to strike Iran.
In early March, President Obama meet with Netanyahu at this year's American Israel Public Affairs Committee. During a speech at the convention Obama told AIPAC, "I have a policy to prevent Iran from obtaining a nuclear weapon. I will take no options off the table, and I mean what I say," Obama added.
"There should not be a shred of doubt by now: when the chips are down, I have Israel's back."
Apart from his statements the Obama Administration has been rather reserved on their stance to support Israel if they were to attack and many speculate this year's election is a major factor.
"I think this leak today is part of the administration's campaign against an Israeli attack," former US diplomat John Bolton said Thursday on Fox News.
"It's just unprecedented to reveal this kind of information about one of your own allies," Bolton said.
According to The Christian Science Monitor, Tehran has questioned Azerbaijan's involvement in the assassinations of key Iranian nuclear scientists, since the individuals blamed for the attacks were arrested in Azerbaijan.
According to reports, Israeli officials have yet to comment on the allegations.
"We're watching what Iran does closely," one of the US intelligence sources was quoted as saying in the Foreign Policy article.
"But we're now watching what Israel is doing in Azerbaijan. And we're not happy about it," the source concluded.