Iraq detains US contractors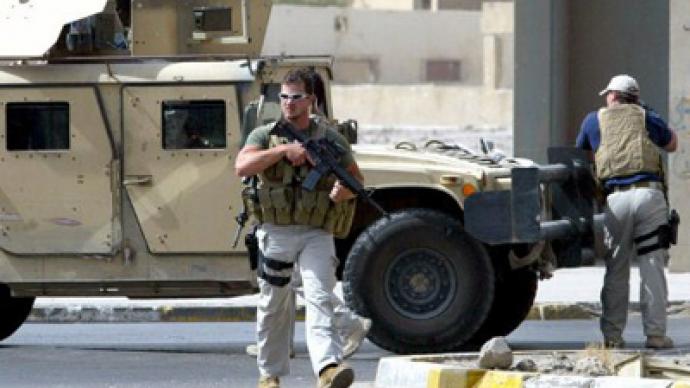 What is the end result of a nearly-nine year war between Iraq and America? Over 100,000 violent deaths, the execution of Saddam Hussein and now the detainment of an undisclosed number of US contractors.
Less than a month after the last US troops walked out of Iraq, American officials are admitting that left behind in Baghdad were a number of contractors held by the foreign government, some for as many as three weeks. The number of civilian contractors detained by Iraqi officials, Doug Brooks of the DC-based International Stability Operations Association tells the New York Times, was in the "low hundreds," and although all have been released, it doesn't rule out the possibility of future imprisonment of Americans in Iraq.
Following a long-anticipated withdrawal promised at the beginning of the Obama administration, the transition of US troops out of Iraq is proving to be not without complications. Finally in charge of their own country, the Iraqi government is turning the tides on the American personnel who have governed overseas for the last eight-plus years.
America's embassy in Baghdad houses around 15,000 US-affiliated persons, but now with the war officially over, Iraq is warning the US and others that they better play by their rules if they want to stay,
"Iraq always welcomes foreigners into the country, but they have to come through legally and in a way that respects that Iraq now has sovereignty and control over its land," Ali Moussawi, an adviser for Prime Minister Nuri Kamal al-Maliki, tells the Times.
According to the report from the Times, the massive detainment is being waged as Iraqis begin enforcing their own rules and Americans are no longer apt to use their own military to put themselves above the local law of the land. The US withdrawal was almost postponed when Washington plead with Baghdad to allow America to keep its troops in Iraq — and have them granted immunity from Iraqi law — which was met with rousing opposition and eventually the end of the war. Now that Iraq is back to governing Iraq, they are warning Americans that they mean business.
Following the last migration of troops, writes the Times, Iraqi authorities largely stopped the practice of issuing and renewing weapons licenses and other authorizations to many Americans working as contractors overseas. What was left, as a response, was thousands of Americans in Iraq with expired permits, allowing authorities overseas legitimate reasoning for rounding them up.
In a letter to US Secretary of State Hillary Clinton regarding the incident, the International Stability Operations explains the seriousness of the detainment, pleading that "While private organizations are often able to resolve low-level disputes and irregularities, this issue is beyond our ability to resolve." Given that the removal of troops received such widespread support in both the US and Iraq, however, it might be a moment before Washington steps up and tries to take on their latest challenge.
The Times reports that most of the detainments have occurred at the Baghdad airport and at other checkpoints around the capital city, where Iraqi authorities have asked American and other foreign occupants, to provide documentation. When they are unable to do so, they are then ushered into detainment facilities.
"We have to apply our own rules now," Latif Rashid, a senior adviser to the Iraqi president, tells the Times. Rashid adds that tensions between Iraqis and American military contractors have been high for ages, which should not come as a surprise given that US-hired security agents have been blamed for several high-profile incidents that left Iraqi civilians slain.
"The Iraqi public is not happy with security contractors. They caused a lot of pain," Rahis tells the Times. "There is a general bad feeling towards the security contractors among the Iraqis and that has created bad feelings towards them all."

Speaking on condition of anonymity, one US military official tells the Times that the detainment is "primarily an adjustment of our standard operating procedures as we adapt our people and they adapt their security forces to the new situation."