US to attack 2 Mid-East countries in next 3 months– Ahmadinejad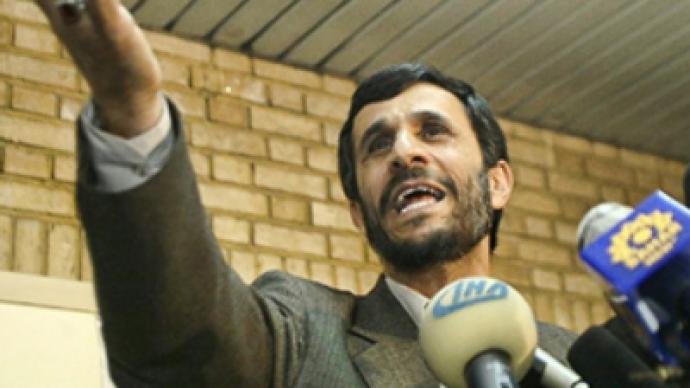 Iran's President Mahmoud Ahmadinejad has stated that the US and Israel are planning to launch two military attacks in the Middle East in the near future as part of a "psychological war" on Tehran.
In an interview with Iran's English-language Press TV, the Islamic Republic's leader claimed that they "have precise information that the Americans have devised a plot, according to which they seek to launch a psychological war on Iran."
The Americans "plan to attack at least two countries in the region within the next three months," Ahmadinejad is quoted as saying. He did not clarify, though, which specific countries they would be.
By doing so, he explained, Washington is planning to achieve two goals. Firstly, it is hampering Iran's progress "since they are opposed to our growth". Secondly, it is saving "the Zionist regime," which has "reached a dead-end," he said. According to Ahmadinejad, the Israeli leadership "believes they can be saved through a military confrontation".
The statements came just a day after the EU approved a fresh package of economic sanctions in a move to convince Tehran to halt its uranium enrichment program and resume talks. In his interview with Press TV, the broadcaster cites, Ahmadinejad said Iran would come back to the negotiating table in September.
Meanwhile, Moscow, commenting on the decision over the new sanctions, has said that they demonstrate that the US and EU are ignoring the principles of collective work of the so-called sextet negotiating with Iran and UN Security Council, writes RIA Novosti. The Foreign Ministry spokesman, Andrey Nesterenko recalled that Russia has maintained that applying unilateral or collective sanctions against Iran outside the framework of the UN Security Council is unacceptable.
Also, Interfax cites the spokesman as saying, Russia rejects "all attempts to project internal laws of the European Union and the United States on third countries, or to apply sanctions against companies and individuals of states which conscientiously fulfill the UN Security Council's resolutions."
Although critical over the EU's latest move, Russia at the same time is not quite happy with the comments that have lately been coming from Tehran. Ahmadinejad's recent assertion that "Medvedev has become the mouthpiece for the plans of Iran's enemies," did not pass unnoticed.
On Monday, the Russian Foreign Ministry issued a statement saying that the Iranian president's rhetoric on Russia's position over the Iran's nuclear issue is completely unacceptable.
You can share this story on social media: