'The neo-conservative era is dead': Ron Paul announces DC think-tank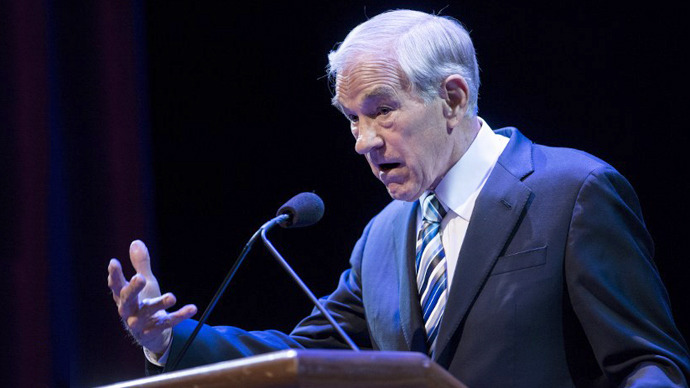 Ron Paul has been retired from Congress for only a few months, but he's certainly not shying away from politics. The former US representative has already announced his new project: the Ron Paul Institute for Peace and Prosperity.
In a press release sent to the media Friday afternoon, the Ron Paul camp confirms that the long-time Texas representative will launch a think-tank of sorts in order to carry on his ideologies after his time in office has ended.
"After decades in and out of the US House of Representatives leading the call for a non-interventionist foreign policy and the protection of civil liberties, Dr. Paul is launching a revolutionary new vehicle to expand his efforts. The Institute will serve as the focal point of a new coalition that crosses political, ideological and party lines," the statement begins.
According to the press release, the Ron Paul Institute will focus mainly on two issues: education and coming generations.
"It will fill the growing demand for information on foreign affairs from a non-interventionist perspective through a lively and diverse website, and will provide unique educational opportunities to university students and others," his office says.
"The neo-conservative era is dead. The ill-advised policies pushed by the neo-cons have everywhere led to chaos and destruction, and to a hatred of the United States and its people. Multi-trillion dollar wars have not made the world a safer place; they have only bankrupted our economic future. The Ron Paul Institute will provide the tools and the education to chart a new course with the understanding that only through a peaceful foreign policy can we hope for a prosperous tomorrow."
Ron Paul, 77, says he will formally unveil his latest endeavor next Wednesday at a conference in Washington, DC, only a stone's throw from the congressional office he occupied for nearly three decades. Slated to attend the conference are the members of the Institute's board of advisors, which contains a number of high-profile names including noted economist Lew Rockwell, the CEO of the Ludwig von Mises Institute and a longtime collaborator of Paul's — he served as the congressman's chief of staff from 1978 to 1982, and later advised the politician as he vied for the presidency.
Also on the Institutes board is Rep. Walter Jones, Jr. (NC), Rep. John Duncan, Jr. (TN), former Rep. Dennis Kucinich (OH) and Judge Andrew Napolitano.
Just earlier this month, Ron Paul unveiled his own homeschooling curriculum for students, which he describes as a program aimed to provide "education in liberty like no other."
"Students will be exposed to thinkers they would never encounter in a government school. They will know history and economics better than anyone their age," Rockwell wrote in an editorial announcing the start of the "Ron Paul Curriculum" published in The Daily Bell.