Legally insane man acquitted in '92 murder arrested with 36 guns in van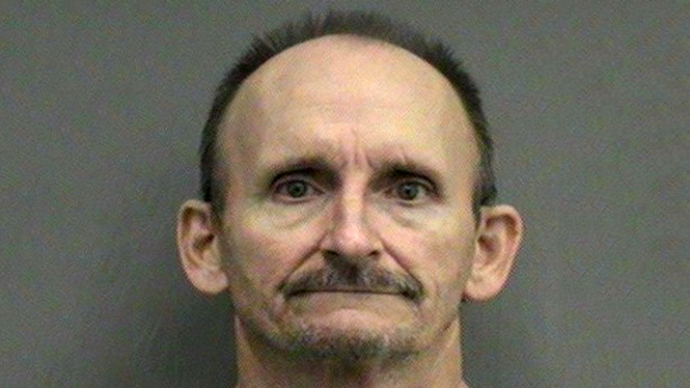 A Florida man who fatally shot a truck driver over 20 years ago and was judged to be criminally insane was arrested again when deputies pulled him over and found dozens of weapons and thousands of rounds of ammunition in his vehicle.
David Harris Dunaway, 58, was stopped for speeding last week when deputies discovered that he had been indicted by a Tampa grand jury on December 18. Before the police put him in the backseat of the patrol car, though, they peeked into the back of his green Honda van and saw 36 guns with 4,629 rounds of ammo, according to the Tampa Bay Times.
While Dunaway claimed that he was en route to a local flea market to sell "some" of the collection, his medical history made it illegal for him to own firearms.
The situation was much more serious in 1992. Dunaway had eaten at a Florida Waffle House and fled before paying his bill. Trying to escape from the restaurant, he drove his car into a ditch and walked to a nearby gas station for help.
Truck-driver Leonard Brower was at the Amoco station and refused Dunaway a ride, citing company policy that forbids drivers from taking on passengers. The pair walked inside the building in front of several witnesses.
"He maced my father in the face, pulled out a gun and hit him in the head," Brower's son Brian told the Tampa Bay Times this week. "He knocked him to the floor and fired three shots."
The officer who arrested Dunaway outside the gas station said the suspect muttered "forgive me, for I have sinned" as he was placed in handcuffs.
Two psychiatrists examined Dunaway before Circuit Judge John W. Booth declared him not guilty by reason of insanity. When and why he was released remains unclear, but the Bureau of Alcohol, Tobacco, Firearms, and Explosives has been investigating Dunaway since it received a tip he was selling guns last year.
"These are the types of people that should not have guns," ATF spokesman Delano Reid told the Times.
You can share this story on social media: