The inflated notoriety of the "world's biggest spammer"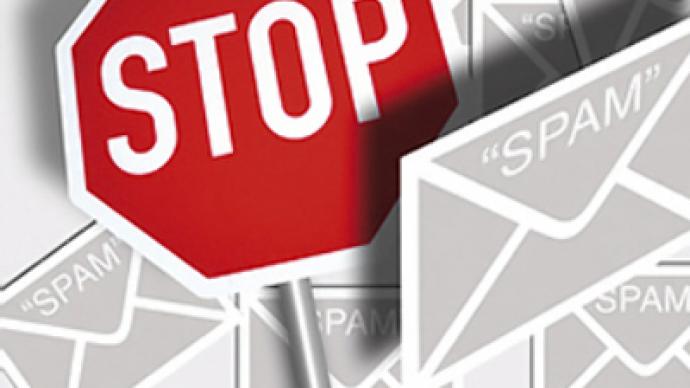 The Russian media seem to have been doing their best to promote the country's reputation as the prime source of cyber crime, as reports of police closing in on the "world's biggest spammer" pop up in their dozens.
However, the notoriety of Igor Gusev, the alleged "criminal mastermind of counterfeit drugs" may be a little exaggerated for several reasons. Firstly, he is no mastermind. Secondly, he is unlikely to be among the top figures in the shady internet-based business. Thirdly, he may not be a spammer at all.
Bells and whistles of shady online commerce
Let's take a quick look at where companies like Glavmed.com, which is allegedly Gusev's, get their money from. It all starts with hundreds of thousands of potential customers in the US, Canada, Europe or another region with good internet coverage and tough regulations.
The customer wants to buy things like a handbag claiming to be a Gucci, pictures of naked people doing lewd things in pairs and trios, or prescription sleeping pills with the potential for substance abuse. Thanks to copyright laws or some other legislation, local prices for the stuff are pretty high, but there's a way around it – the internet. So the fellow googles something like "buy cheep Viagra" (typo intended).
On the other end of the chain are industrious Asian or Eastern European producers of drugs, fake luxuries and porn. All are prepared to deliver – but with no resources or skill to find their would-be clients. This is where middleman sites come in.
A partnership program acts like an MLM chain on the internet with one noticeable difference – they don't handle the goods themselves. The company recruits hungry students with some IT skills, to hunt for online traffic and direct it to one of the virtual stores associated with the company. It can be done in several ways of various legitimacy.
They can create and promote a website with individual design and no false claims at all about the nature of their products. They can pay other companies – traffic brokers – for users' clicks on relevant search result pages. They can make so-called doorway web pages that cheat search engines into indexing them and ranking as high as possible, and redirect users to an online shop (this "spamdexing" is naturally frowned upon by the cheated parties). And, yes, they can spam your email and Facebook accounts with offers to buy cheap Viagra.
The webmaster partners of the program get their commission from every order made by the customers who have been brought in through their effort, and also take a share in the profits of other partners which they recruited themselves. The head company redirects the order to the producer and performs customer support. However, no less important is making the startup businesses of the new partners easier – by giving tips, providing them with free website engines, hosting them for free etc. Yet another company handles payments. Delivery is done by regular postal services or logistics companies.
The Robin Hoods of the World Wide Web
Ironically, the more respectable, so to speak, partnership programs explicitly forbid using spam, and Glavmed is no exception. Moreover, many partners advertising cheap Indian generic drugs to US citizens with flexible conscience would not see themselves as criminal. They say they are rather modern versions of Robin Hood, robbing the greedy pharmaceutical companies and giving money to the poor folk with no med insurance. Of course Pfizer would not agree, but we all know who the villain in this story is, don't we?
As for Igor Gusev, he was labeled one of world's top spammers in June this year by the Russian version of Newsweek magazine. Their article titled Cyber-empire of Evil, covered IT crimes and the part that Russians played in them. Gusev received blame for allegedly being behind the Canadian Pharmacy, a company named the world's biggest spammer by the international spam watchdog Spamhaus. Canadian Pharmacy is allegedly part of Gusev's partnership.
Of course, the Sherwood of the internet is big enough for both noble robbers and scumbags of spam. Newsweek journalists said Gusev was not available for comment when they wrote their piece. Nevertheless, the man sued the magazine for defamation after the publication, and the case went quite ridiculous when Newsweek lawyers inquired why one particular Ivan Gusev among over 200 living in Moscow thought he was the one briefly referred to as a sort of spam baron (the title of the spam king is already held by Leo Kuvayev – a tried and sentenced spammer).
The current wave of reports, however, links the Igor Gusev in question to a number of other spamming entities.
The partnership's position on spamming charges is quite simple – we didn't do this. They say competitors or some ex-partners expelled for unhallowed ways of delivering the traffic stole their websites' designs and confused both the watchdog and the general public.
By the way, the community of pharm partners apparently sees charges of using spam as absurd. A 30-minute documentary shown by a major Russian TV channel in late June cites the allegations against the website. One user sarcastically comments: "Glavmed is the first-ever partnership programme with an ad aired by a federal TV channel".
Business as usual
So is Igor Gusev a spam mastermind? It's up to the court to judge; although the first impression the whole business scheme gives is one more like petty theft than bank robbery.
User Desp (widely believed to be Gusev) on the website's forum seems to be sure that his current trouble comes from the person known on the internet as RedEye (widely believed to be Pavel Vrublevsky). RedEye is known for a number of e-commerce projects, including a payment company incidentally used by a number of partnership programs. He also holds a share in another company facilitating getting generic drugs to the American market. He incidentally has a long-standing grudge with his ex-partner Desp, which dates back about a year now. Desp refers to the search and seizure at Gusev's apartment as an "anniversary present".
Glavmed partners are preparing to join a new pharmaceutical partnership program if the current one is shut down. Then it will be business as usual.
Alexandre Antonov, RT
You can share this story on social media: