Gas industry funded pro-fracking movie 'Truthland,' tax filing reveals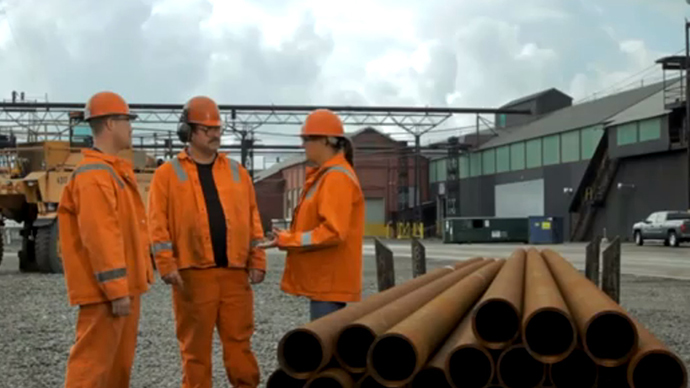 Newly surfaced income tax documents have revealed a strong connection between a pro-fracking movie and lobbyists in the gas and drilling industry, which presumably helped fund the film as a public relations response to the critical 'Gasland' movie.
Josh Fox is an American film director and environmental activist whose film 'Gasland,' an expose on how horizontal drilling into underground shale formations has caused environmental pollution and adverse health effects for those living near the drilling, was nominated for an Oscar in 2011. Reaction to the film by critics and activists was positive, and has spawned a sequel,'Gasland 2.'
"Fox decides that his own backyard in Pennsylvania isn't his exclusive property,"wrote a critic in the Denton Record Chronicle."'Gasland' is both sad and scary…if your soul isn't moved by the documentary, yours is a heart of shale."
'Truthland' made its debut two years later. The would-be documentary was panned by scientists for downplaying the effect fracking has on the environment, including rendering tap water undrinkable in multiple regions throughout the US.
Critics have asserted that the film was made with the intent to spread disinformation, and that the producers were effectively the employees of industry executives and lobbyists who commissioned the film to protect their own reputation.
"This isn't the first time something has been released that sets the record straight on the mountain of misinformation in 'Gasland,'"Jeff Eshelman, vice president of public affairs at the Independent Petroleum Association of America, said at the time."But it is the first time that these facts have been transmitted in such vivid detail through such a compelling medium."
New evidence indicates that the ties between the fracking industry and 'Truthland' were much stronger than previously suspected. A 2012 income tax form pointed out by The Nation's Lee Fang shows the movie was funded with a $1 million grant from American Natural Gas Alliance, Inc. – an association of some of the most powerful fracking companies currently at work. Devon Energy, Apache, Noble Energy, Range Resources, XTO Energy, Southwestern Energy and Pioneer Natural Resources are all among those behind the American Natural Gas Alliance.
Production of the film was led by Fred Davis, a prominent media consultant behind Republican John McCain's 2008 presidential campaign. That advertising plan included a focus on Obama's ties to the controversial former pastor Jeremiah Wright.
Ben Nelson of the website Little Sis reported that the 'Truthland' film website was briefly registered to an Oklahoma office belonging to the Chesapeake Energy Corporation. The domain was then taken offline before it resurfaced behind a proxy wall.
At one point in 'Truthland' Shelly Depue, who is a prominent interview subject throughout, is shown looking into a well on her Pennsylvania property with a state Department of Environmental Protection employee.
"Multiple layers of protection,"the now-former employee says,"you can see nothing is going to get in or out of this pipe."
Just months after the release of 'Truthland' one of Depue's neighbors reported seeing sludgy water"erupting"out of the same well. An investigation into the matter by the Scranton-Times Tribune found that the water had unusually high methane levels and that WPX Energy, which rented Depue's land, had been cited for"defective casing or cement…meant to protect aquifers [which contain drinking water] from gas and other fluids."
You can share this story on social media: