'Homeland Stupidity' creator sues NSA, DHS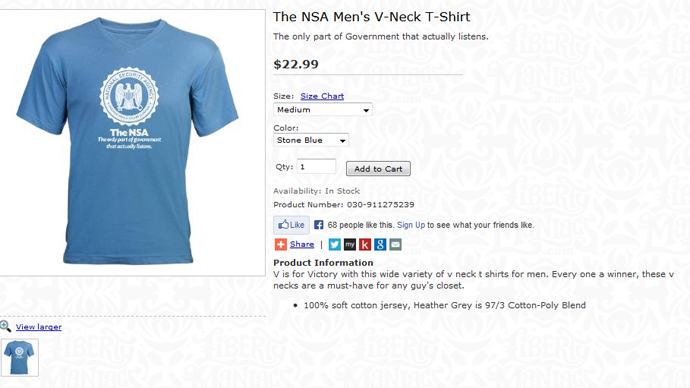 A designer from Minnesota is suing the National Security Agency and the Department of Homeland Security for attempting to take down his parody products.
Earlier this year, 38-year-old Dan McCall, owner of the website LibertyManiacs.com, was selling T-shirts and other items featuring parodied logos of both the NSA and DHS on the online merchandising platform Zazzle. One logo read, "NSA: The only part of government that actually listens," while another stated, "Department of Homeland Stupidity."
Although these logos were intended as satire, McCall was informed by Zazzle that the products violated its guidelines and that they would have to be removed. Eventually, it was discovered that the NSA and DHS had sent a cease-and-desist order to Zazzle in 2011, threatening it with legal action should it sell products featuring government seals without permission.
Now, with the help of the public advocacy group Public Citizen, McCall is taking action of his own. Attorney Paul Alan Levy has filed a lawsuit claiming that under the First Amendment, McCall has the right to parody government offices like the NSA and DHS. Rather than seek monetary compensation, McCall is asking a judge to recognize the legal status of parodies so that third parties like Zazzle won't be intimidated in the future.
The lawsuit also argues that laws banning anyone from "mutilating or altering" any seal of any agency in the U.S. government are unconstitutional.
"Here we have a First Amendment problem [the NSA and DHS] have created by heavy-handed actions in response to criticism," Levy said to the Washington Examiner. "We don't know what other threats these agencies have sent out in response to parodies. … These agencies need to be brought in line to respect these people's free speech rights."
In a statement online, Levy added that, "It's bad enough that these agencies have us under constant surveillance; forbidding citizens from criticizing them is beyond the pale."
For his part, McCall, who lives in Sauk Rapids, MN, says that he wants to make it safer for artists to create what they want without fearing litigation.
"I'm just a little guy that happens to be in a little business up here, and I feel like they're just going around and threatening," McCall said to the Examiner. "I want to basically clear the way for the others so we know where we stand when we're telling jokes or creating parodies."
You can share this story on social media: