First-ever home HIV test kit approved in US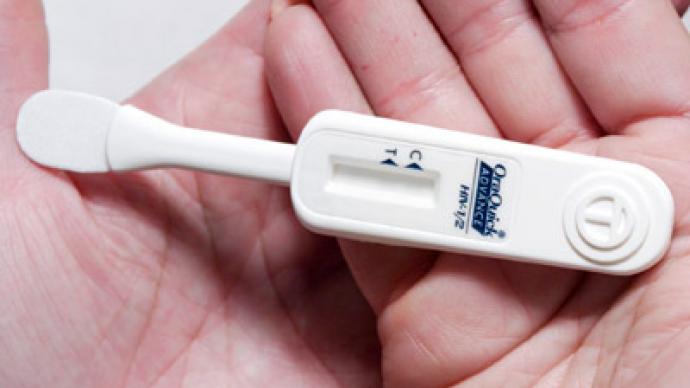 Americans will soon be able to find out whether they are HIV positive at home, after an over-the-counter test was approved by the Food and Drug Agency. The test is only available to people aged 17 and above, so ID may be needed to buy one.
The OraQuick test, by OraSure Technologies, uses a mouth swab to detect antibodies in saliva, which a human body produces about three months after being infected with HIV. It produces results in 20 to 40 minutes. Over-the-counter tests previously available in the US required mailing a blood sample to a laboratory.The test is about 92 per cent accurate in detecting people who do have the virus and 99.98 percent accurate in detecting those who don't, according to company trials. This means the test would produce a false negative for about one person in 5,000 and a false positive for one person in 12. Naturally, positive tests would require further confirmation by medics, who attain a higher accuracy of diagnosis.The introduction of the test is hoped to help curb the spread of the disease, which for decades has been associated with social stigma. About one fifth of the estimated 1.2 million infected Americans do not know they carry the virus, and about 50,000 people get infected annually.OraQuick is a more user-friendly version of the test used by medical professionals. Unlike the original sold at $17.50, the home kit will be charged higher due to more complicated packaging and the need to open a toll-free 24-hour customer support line. The price is not fixed yet, but will be below $60, the producer says. The company also plans to launch an ad campaign among high infection risk groups.The test is only approved for people older than 16, because not enough trials were done with subjects aged 14 to 16. It means that unlike home pregnancy tests, OraQuick retailers may require buyers to produce an ID to confirm their age. The test is expected to hit the shelves in October.The introduction of a home HIV test comes amid resistance from some who believe it could trigger a wave of suicides among those tested positively. The virus and immunodeficiency it causes first emerged in the 1980s, and the lethal disease has long been associated with drug abuse and male homosexuality. An effective retroviral treatment, which prevents development of AIDS, was introduced in the mid-1990s.