Second NY hospital warns nearly 2,000 patients of possible HIV infection from insulin pens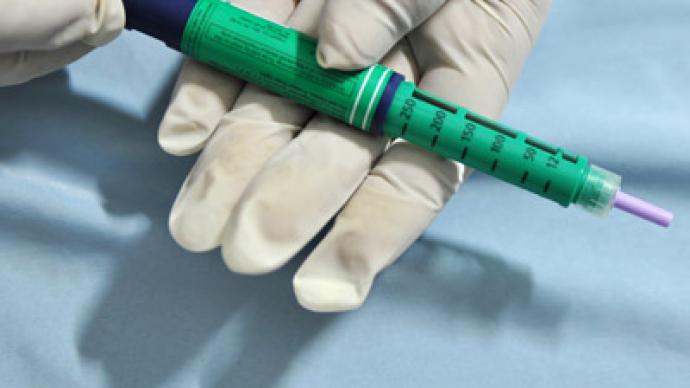 A hospital in New York State has notified 1,915 patients that they may have been exposed to HIV, hepatitis B and hepatitis C – days after another hospital in NY admitted making the same mistake - through reusing insulin pens, used by diabetics.
Olean General Hospital is mailing 1,915 patients who received insulin between November 2009 and last week and advising them to have a blood test, although the risk of infection of HIV or hepatitis B and C is very low, a hospital official told AP. Staff at Olean General said they ordered the action after a review carried out at a nearby veteran's hospital in Buffalo found that more than 700 patients may have been exposed to the same trio of deadly diseases over a two year period when they also may have used multiuse insulin pens on more than one person, though only intended for use on a single patient. Olean General had not identified any specific patients who had been infected, but were not taking any chances. "Interviews with nursing staff indicated that the practice of using one patient's insulin pen for other patients may have occurred on some patients. Regardless, to the extent there may be a chance, however remote, that any patient was provided insulin from an insulin pen other than their own, Olean General Hospital has decided to be proactive and aggressive with respect to notification of our patients," said Timothy Finan, president and chief executive of Upper Allegheny Health System, the parent company of Olean hospital. Although the needles were changed in the insulin pens each time they were used, there was still a risk of infection because insulin stored in the cartridge could have become contaminated through the backflow of blood. There was a clinical alert from the Centers for Disease Control and Prevention (CDC) last year after continued reports of the practice. US federal health agencies have been warning against sharing insulin pens for several years. An alert was issued by the Food and Drug Administration (FDA) in March 2009 after more than 2,000 patients may have been contaminated between 2009 and 2010 at a Texas hospital. A further case of unsanitary hospital procedure occurred in Missouri in June 2010, also at a Veterans Administration (VA) hospital, where 1,800 veterans were exposed to HIV and hepatitis after being treated with dental instruments which had been used by other patients and not properly cleaned. "No veteran who has served and risked their life for this great nation should have to worry about their personal safety when receiving much needed healthcare services from a Veterans Administration hospital," then-Republican Senator Russ Carnahan told CNN at the time.The websites for the FDA and CDC both clearly state the dangers of infection in using insulin pens on multiple people. Responding to the admission last week of potential contamination at the VA Center in Buffalo, Senator Charles E. Schumer (D-NY) said the reuse of insulin pens was shocking and should not be so easily dismissed. "What has happened can only be described as the grossest of irresponsible and dangerous behavior. The VA must immediately deal with the health of those that were victimized, and promptly launch a top-to-bottom investigation to root out how this happened and tell us what is being done to prevent it happening again, in Buffalo or elsewhere in the country," the senator said in a press release on January 15.
You can share this story on social media: